Contents
What are funds?
Funds could be described as the purposes for which your church collects contributions from members. These can be, for example: Building Fund, Youth & Children Events Fund, etc.
You can find your current list of funds by going to Contributions > Funds. Each fund is listed along with its Fund ID (if added), information on whether it is tax deductible, as well as the number of contributions it includes, along with the total amount available.

Add a fund
To add a fund, click the Add Fund button at the top left of your list.

Next, enter your fund's information:
Fund name.
Fund ID

. (optional).

Turn on the

Tax Deductible

toggle if this is the case.

Please note that contribution statements only include those contributions that are associated with a tax deductible fund.

Turn on

Is Default Fund

if you want to make this the default fund to be selected when adding new contributions.

Save

when you are ready.

Edit a fund
You can edit the information associated with a specific fund by clicking the options button next to it and selecting Edit. This will take you to the Add Fund window, where you can update the name or ID, turn the Tax Deductible option on/off, or change whether this fund is the default one or not.

Delete a fund
You can delete a fund by clicking the options button next to it and selecting Delete.
When deleting a fund, the contributions assigned to it will need to be moved to another, existing fund. Please select this fund when being asked to confirm the deletion. Click Delete when you are sure you want to proceed.
Note: Deleted Funds cannot be restored.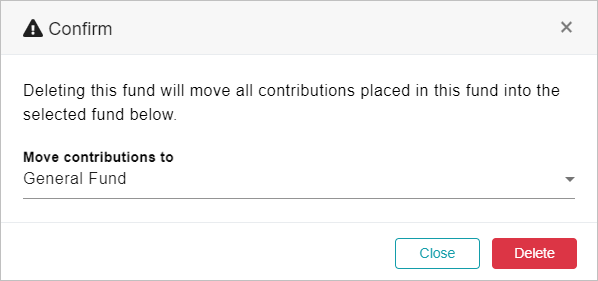 Compare Funds
You can use the chart at the bottom of your Funds screen for a visual comparison of the amounts available within each of your funds.

Search and Filter Funds
You can use the Search box at the top right to find the fund you are looking for, by name,
You can also filter tax deductible funds from the dedicated filter at the top right, where you can select whether the funds listed should be tax deductible or not.
Additionally, you can toggle on the Advanced Search by clicking the dedicated button on the right side of the Tax Deductible filter. This search lets you narrow down the comparison chart to a specific period of time.

Export Contributions Per Fund
Please export your list of contributions under Contributions > All Contributions, then see the columns having fund names as headers. These list fund-specific contributions.
Create Fund-Specific Online Giving Links
You can customize your online giving link to allow people to contribute to a specific fund directly.
Add ?fund=fundname to the end of your online giving link to achieve this.
Example link: https://example.chmeetings.com/Giving/C87B5C1F72EA?fund=Building