Contents
Registering yourself or your family for an event
If you would like to register for a church event using your ChMeetings account, please follow the steps below:
Log into your ChMeetings account by accessing your church URL, using

https://app.chmeetings.com

and finding your church, or using the mobile app.

As soon as you log in, you will see your dashboard, containing a list of upcoming events. If an event is visible, but has no registration button, it means that you can attend without registering. If the event is ticket-based, then you will see a

Register

button next to it. Please click on it to continue.

Note

: The list of events contains both one-time and recurring events. When you register for a recurring event, your ticket is only valid for the selected occurrence of that event, not for all of them. For example, if an event takes place weekly, on Mondays, throughout the month of May, and you register for the first Monday, then this is when your ticket is valid. If you want to attend other occurrences, please register for them separately.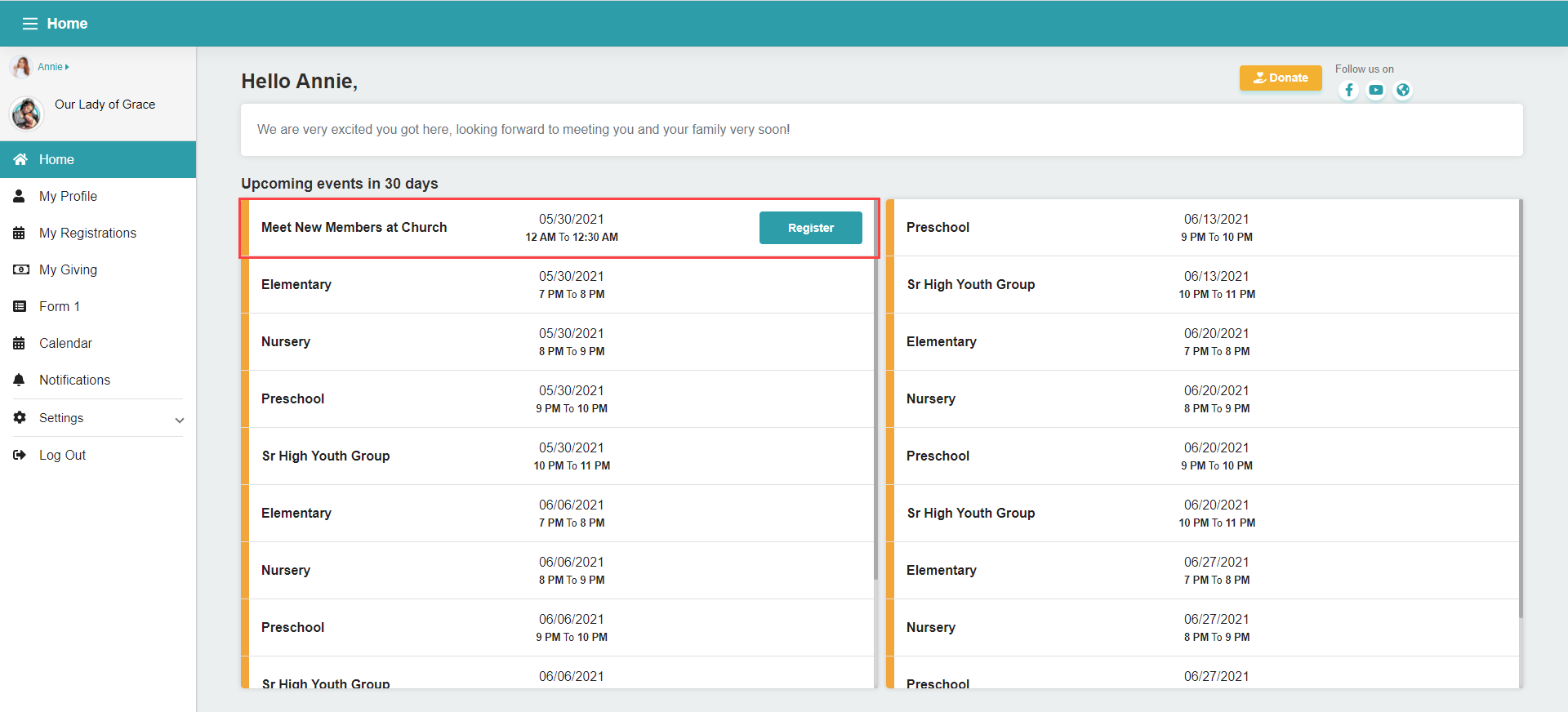 Next, you will be taken to the event registration page. Please click on

Register Your Place

.

You are now added to the list of people to attend

based on this registration.

To add a family member, please click on

Add People

, right below your name. Please note that you can only register people whom your church has associated with your profile, as members of your family: Grandparent, Primary, Spouse, Child, Sibling or Other member.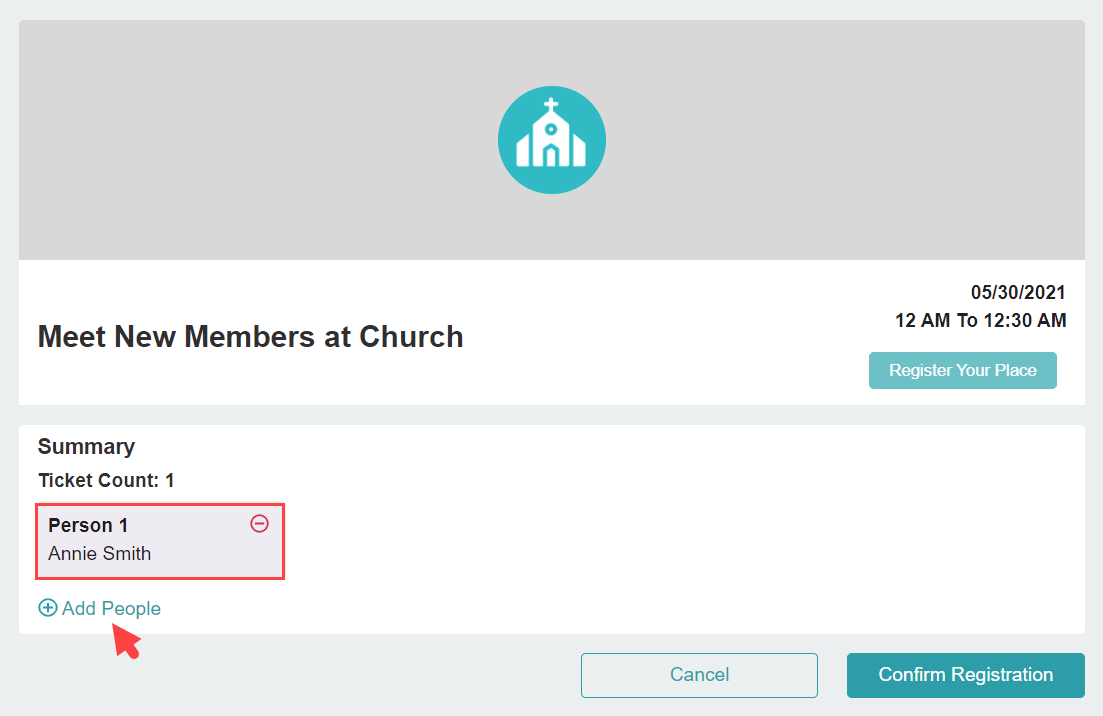 In the window that comes up,

click the name of the family member

whom you would like to register. Click

Add

to add them to the ticket.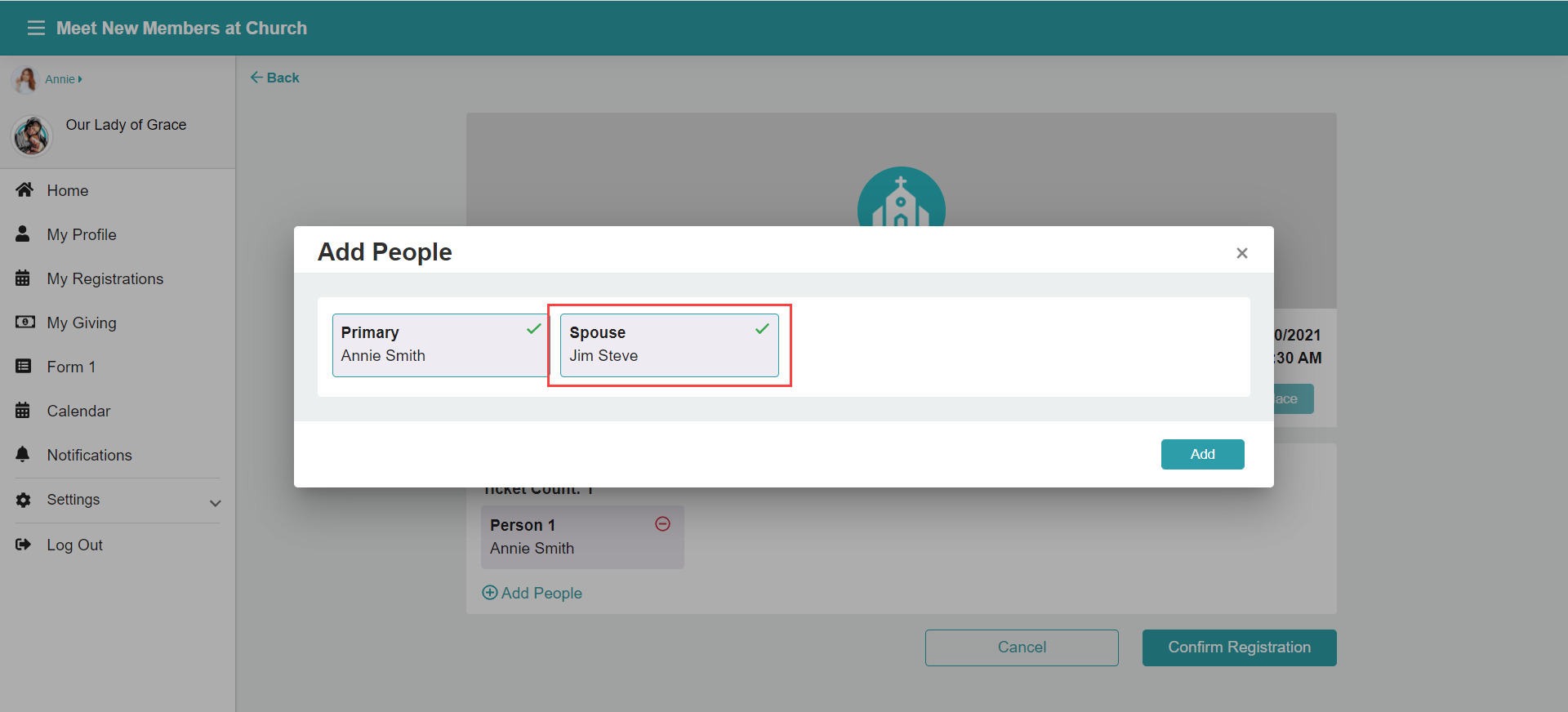 You can

remove someone

by clicking the

Delete (-)

icon next to their name.

When you have added everyone, click

Confirm Registration

.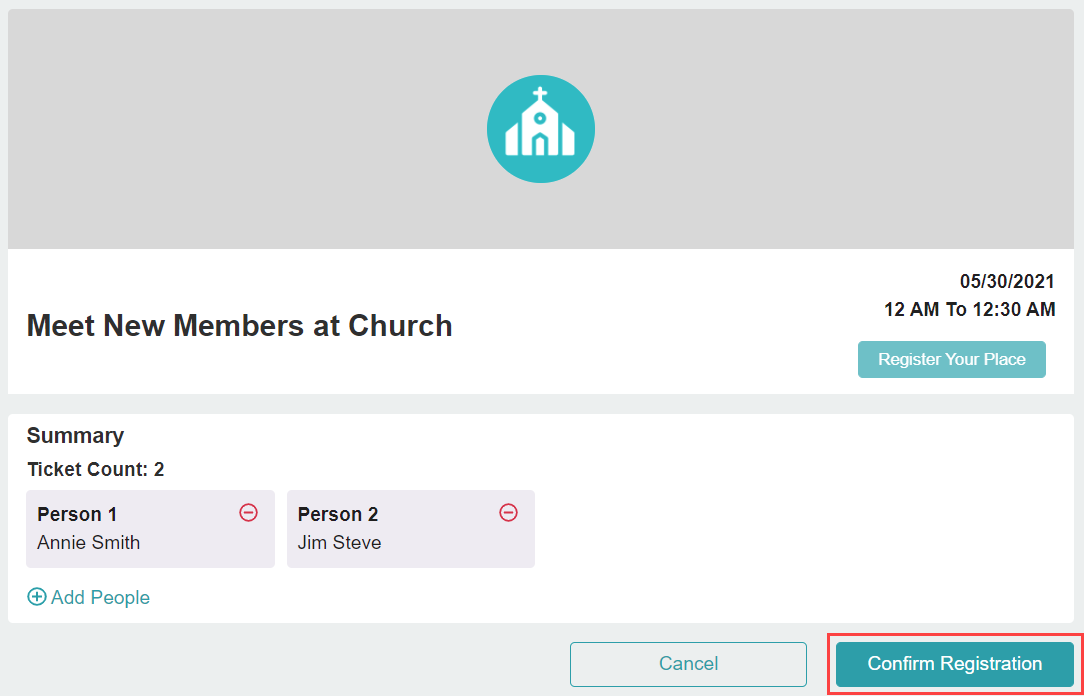 💡 Note:
If your church requires any information from you before completing the registration process, you may be required to fill out a form before being able to complete the registration process.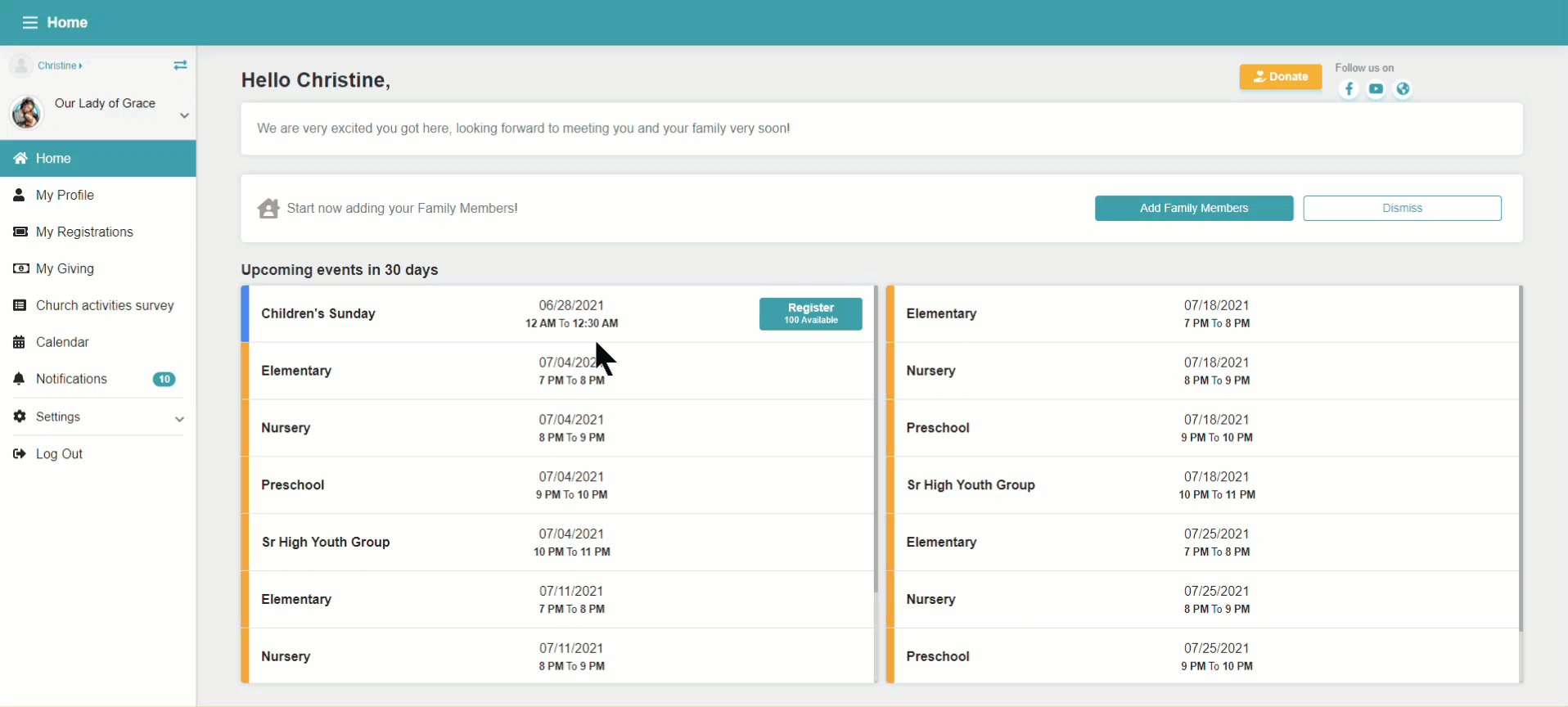 Your registration is now complete

. The event registration page will now show your ticket, along with event information and registered people. There is also a QR Code, which you can download and present when checking in at the event. Please keep in mind that this registration and its QR Code will apply to everyone you add.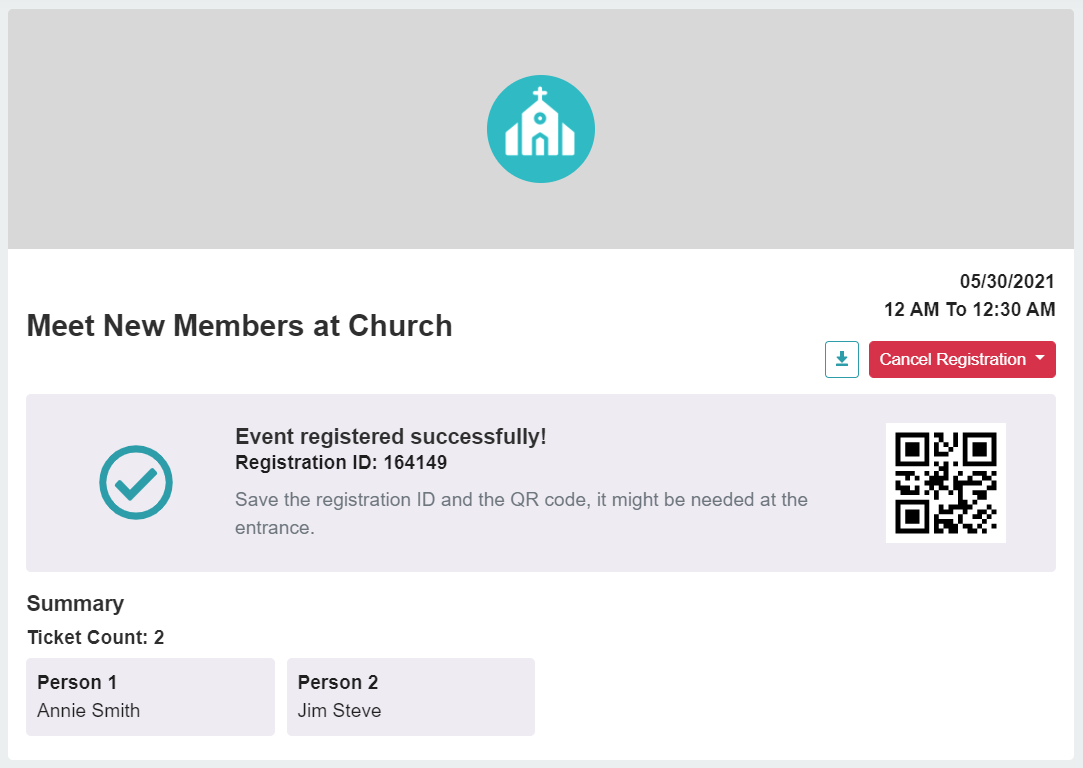 Checking In to an event you registered for
By name
Many times, all you might need in order to check in is to mention your name when you arrive.
Using your QR code
Sometimes, churches may choose to scan QR codes when checking people in. You can download the QR code for your registration by going to My registrations, then following the steps below:
Find the event

you need to check in for and click on it.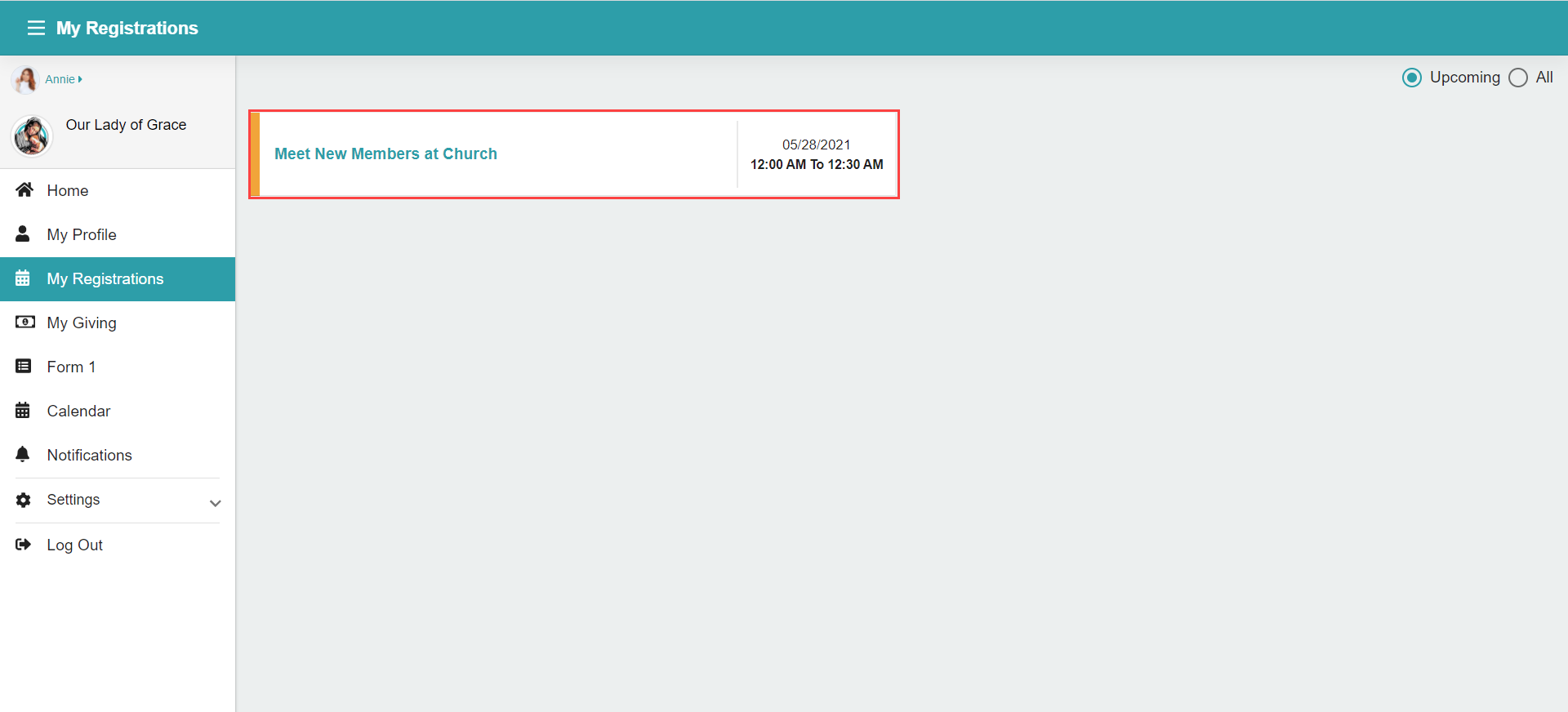 You will now see your registration details.

To download your QR Code

, please click the

Download

button, highlighted below.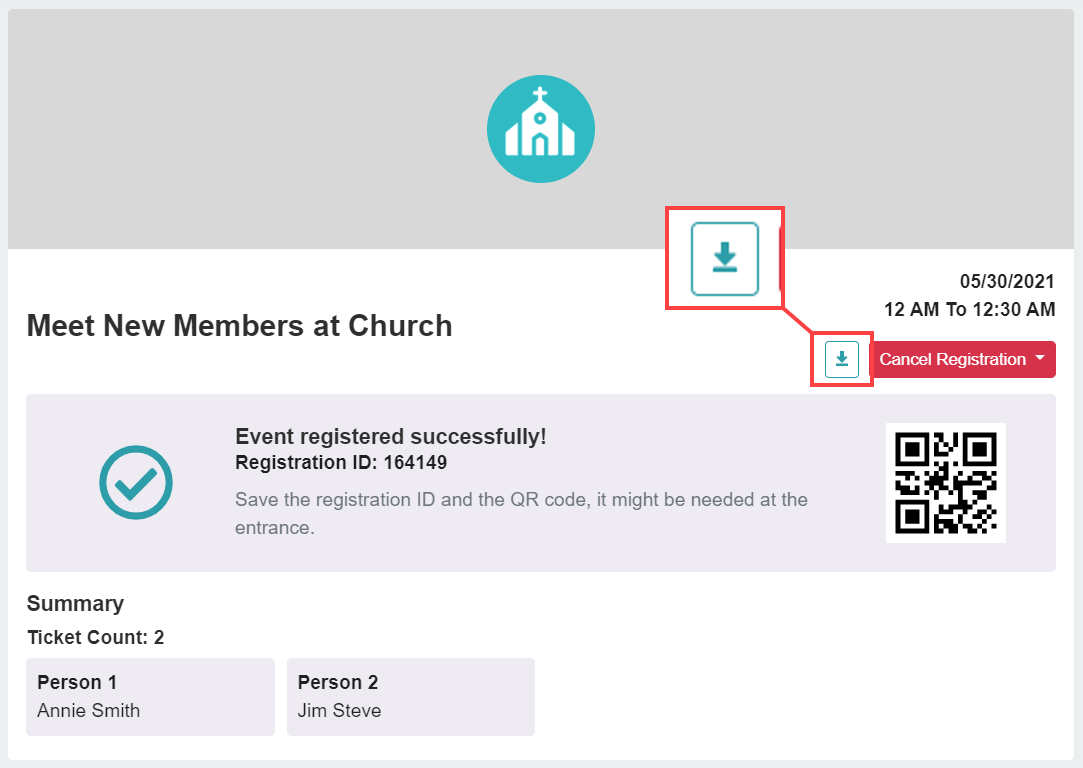 Please note that if there are multiple people added to the same registration, the same code applies to everyone and you only need to present it once. Your church will check everyone in, individually, so there is nothing to worry about if someone is missing.
Self check in
If your church enables self check in, you can check in for the event yourself.
To do so, log into your church member account and check your dashboard for a section called "Events happening now". If this section is not there, then please wait for the event to begin. The section will be displayed at the start date and time.
You should find your event within this section. Press the Check In button next to it.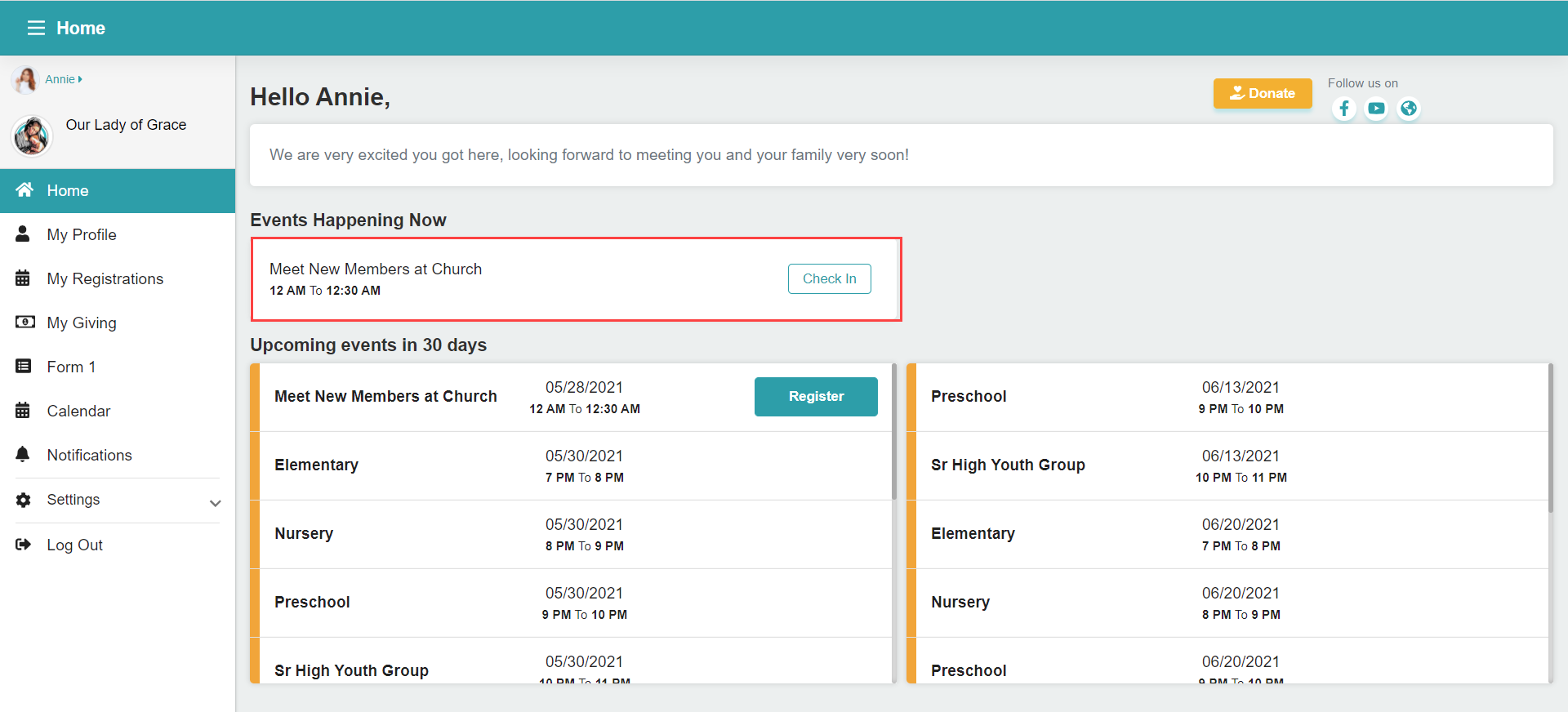 Select the people who are attending, then click on Check In. That's it.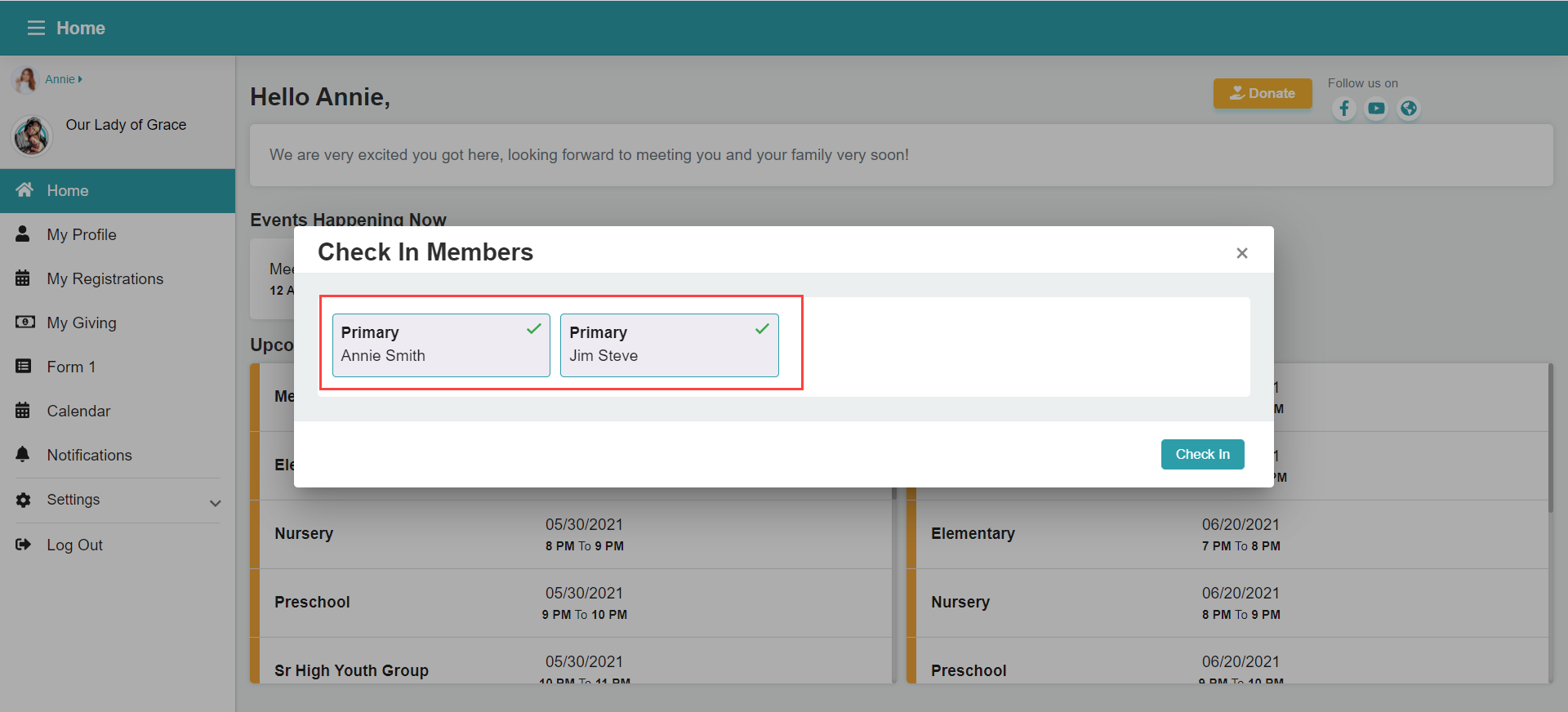 Cancelling a registration
To cancel your registration to an event, please go to My Registrations, then follow the steps below:
Find the event

you need to check in for and click on it.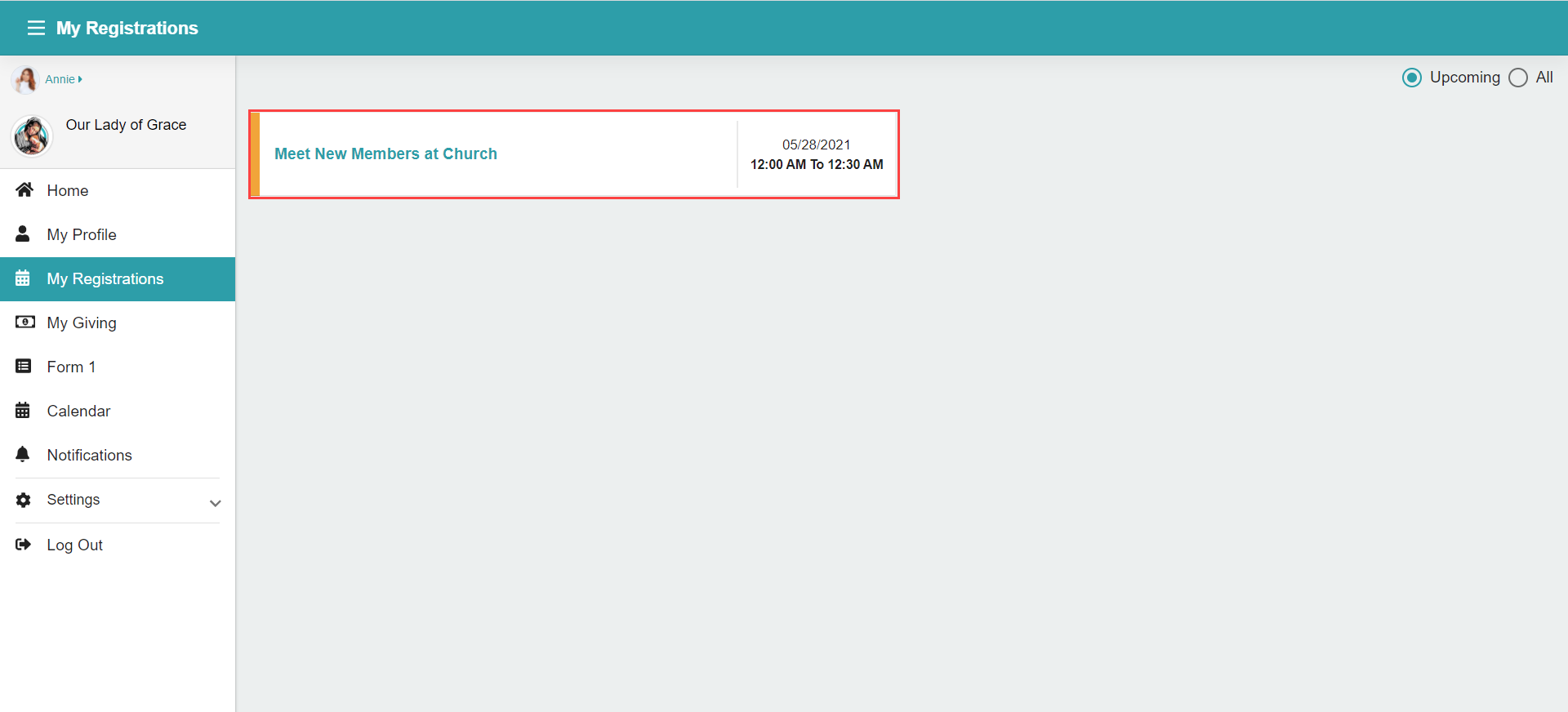 You will now see your registration details page, which will contain a

Cancel Registration

button.

If your registration contains multiple people

, then the button will allow you to select a specific person to cancel for, or to cancel for everyone.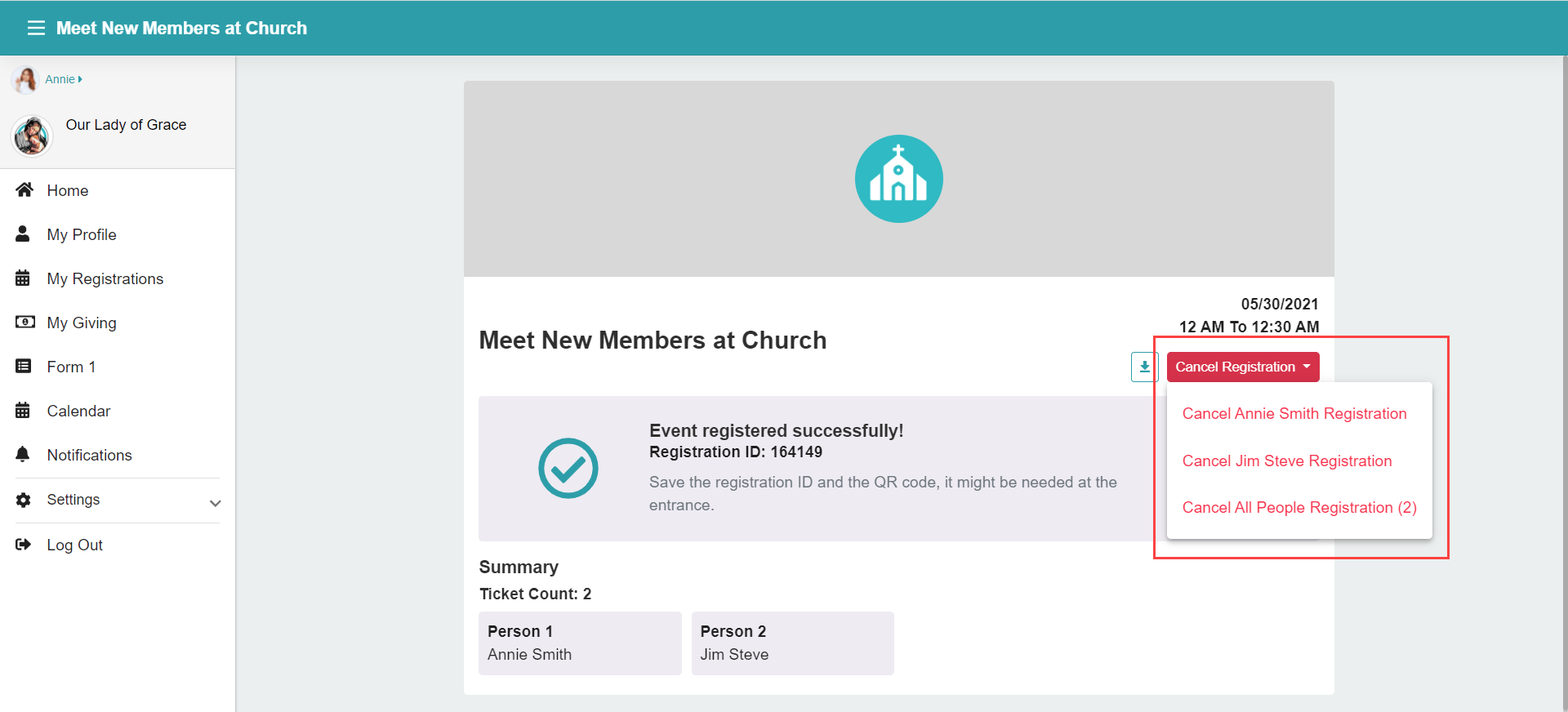 Please confirm your cancellation by clicking on

Confirm

. If you no longer want to do so, please click

Cancel

.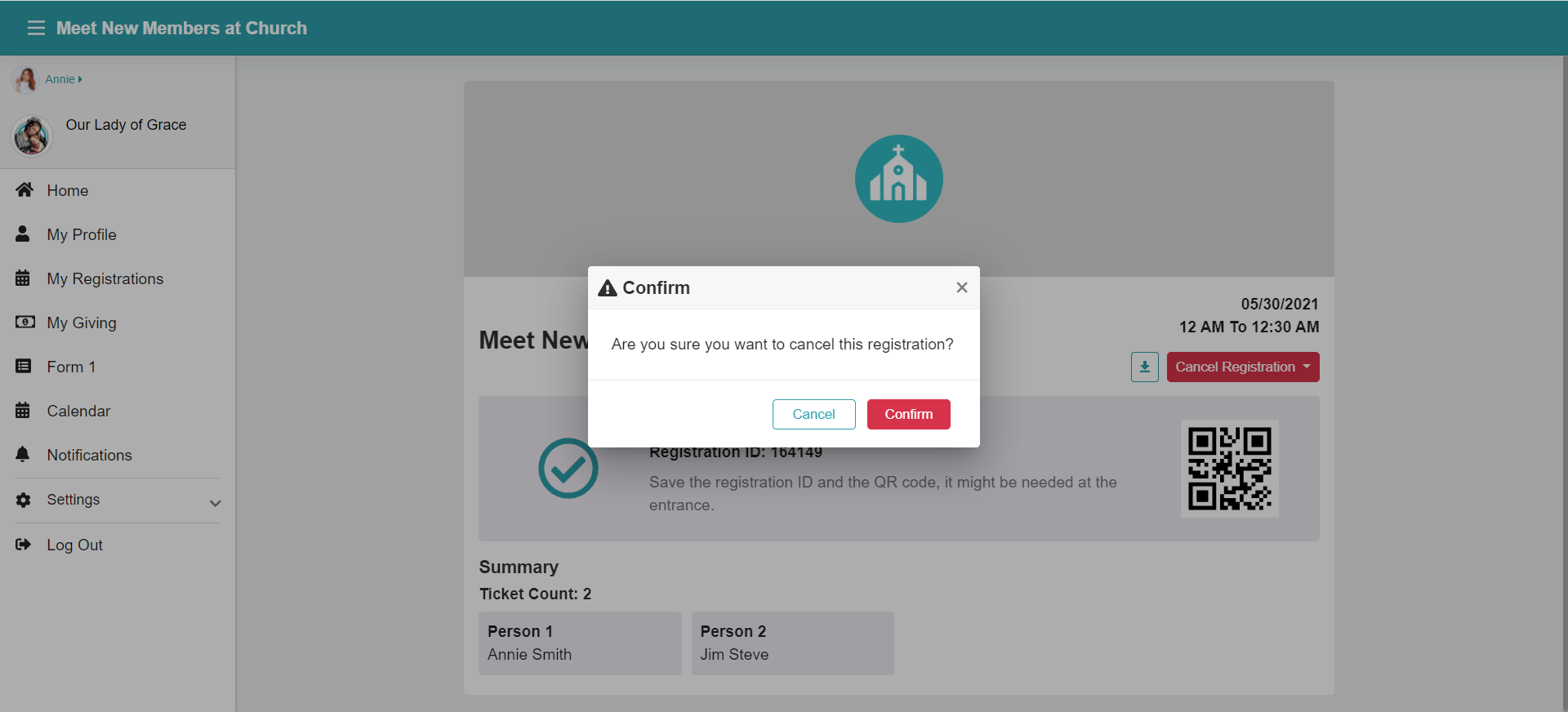 Please note that if you do not see an option to cancel, this means that your church chose to disable cancellations within a certain number of days before the event takes place. You are therefore likely to cancel last-minute.