Contents
Introduction
This feature allows you to import attendance of specific people to recurring events. You can simply download a template of the event, that lists your full list of people, as well as the date at which the event has taken place. You can then easily mark them as attended and import them into ChMeetings.
The general process is as follows:
Download the Excel template.

Edit the template and mark people as attendants.

Upload the file to import your updates.
Prerequisite: Create the event
Before you can import attendance, the event for which you are importing needs to be created within the Events module. Here is a guide on how to create and manage events.
In addition, the start and end date of the event will need to the period for which you want to add attendance. So, the dates within your import need to be in-between the event start/end date for the import to work.
Step 1: Download and update the template
To get started, go to Tools > Import attendance.
Here is where you can select the event that you would like to update via the import.
Next, select the dates between which you would like to import attendance. Again, these need to be the same or within the range of your event start/end dates. This is useful to make sure that you don't import what you don't need. As such, no attendance will be imported outside of the selected dates, even if available within the imported file.
Next, download your template.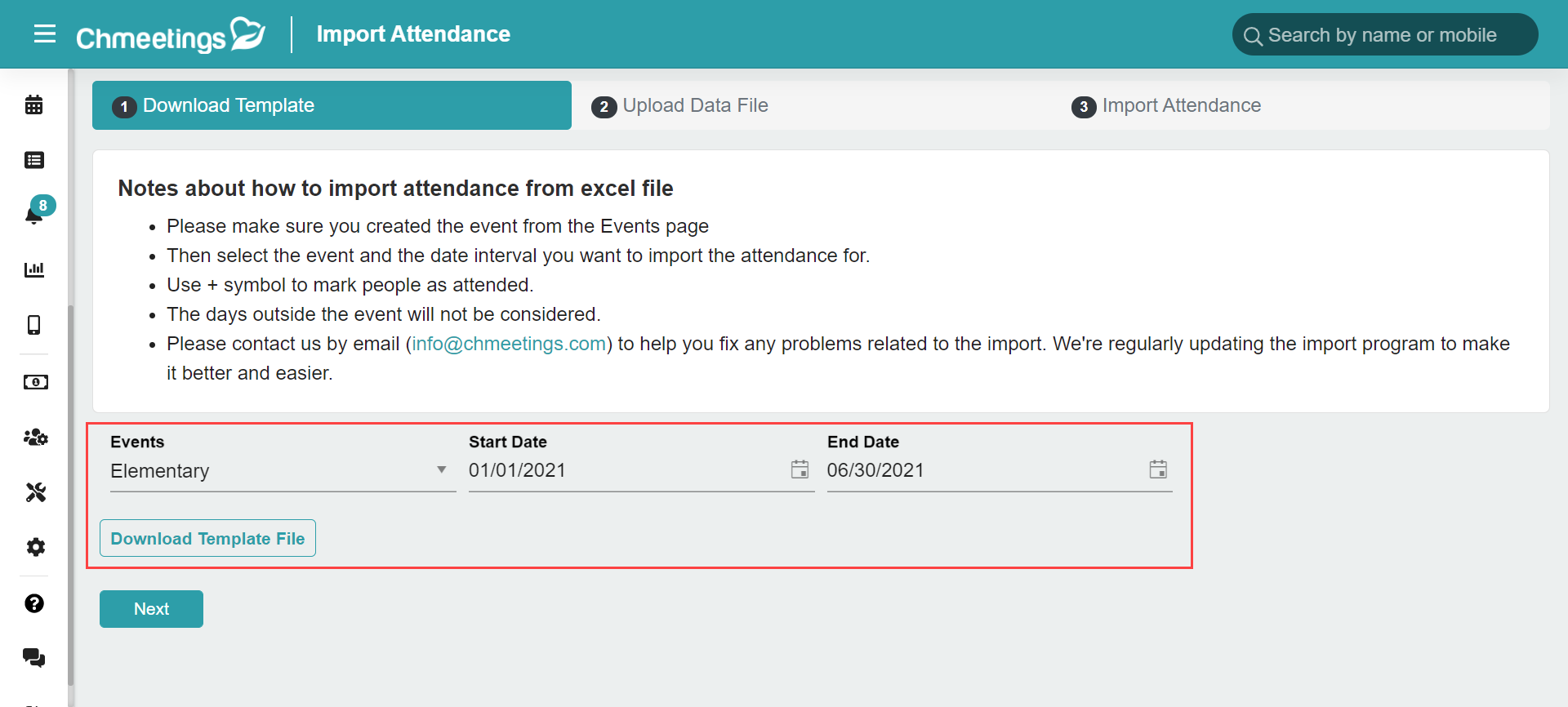 The file you download will include your full list of people, as well as your date range selection.. Please edit the Excel spreadsheet and add a "+" sign in the cells corresponding to the people and dates you want to mark.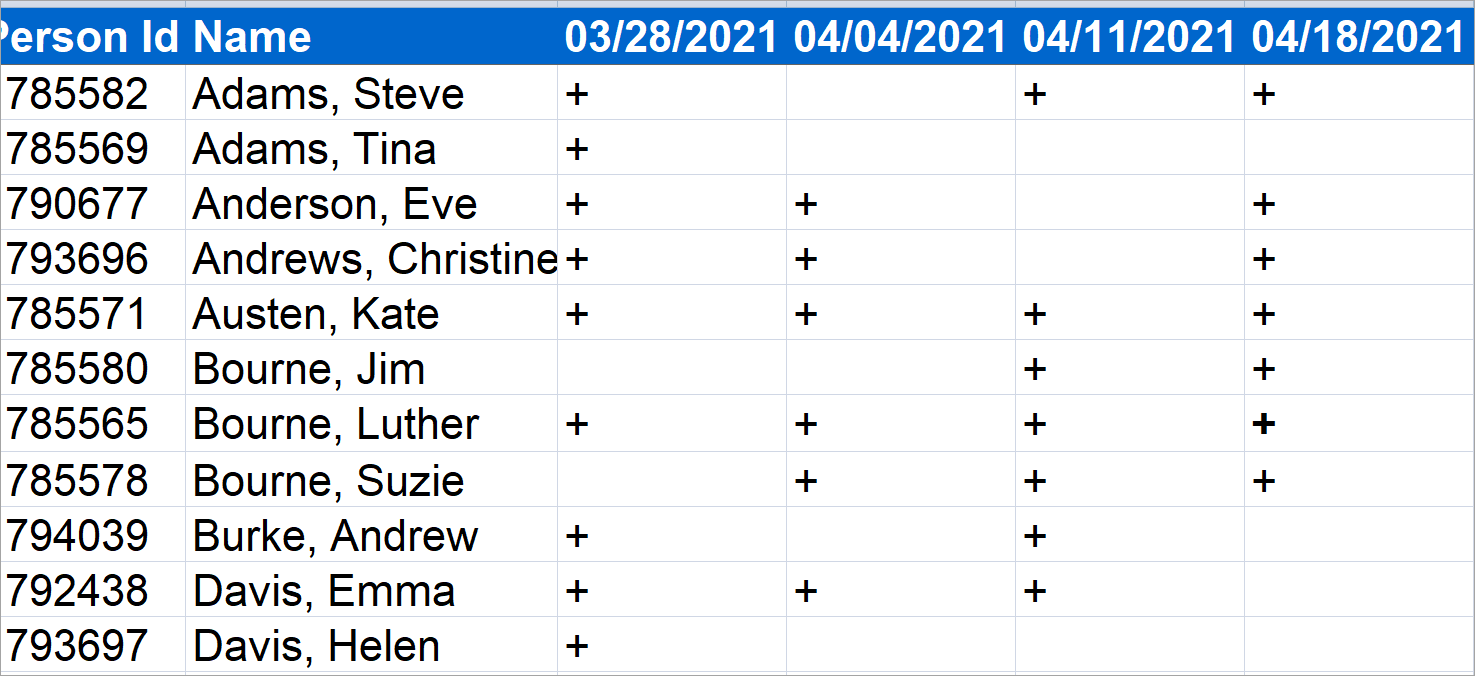 When you are done updating the template, go back to ChMeetings and click Next.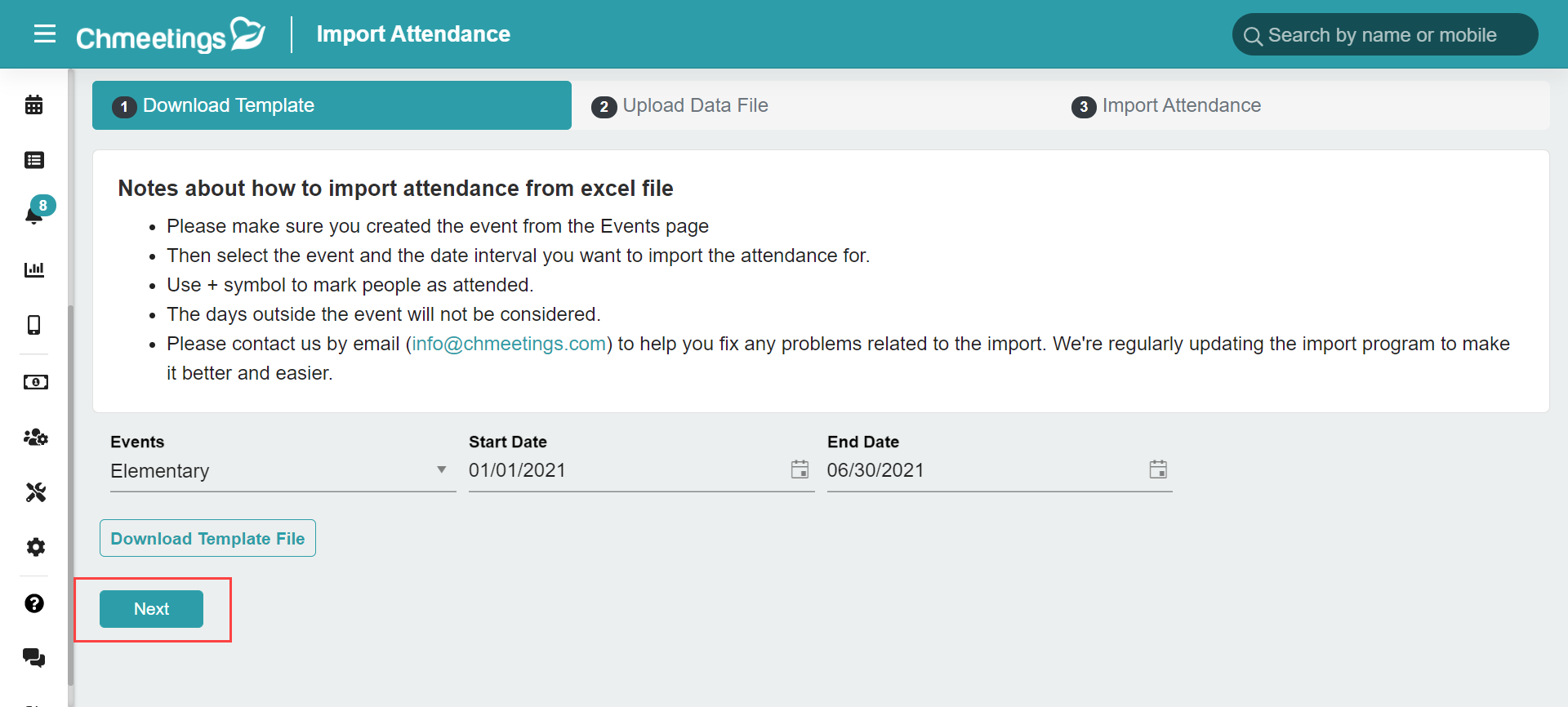 Step 2: Upload your data file
Please click Select file, then choose the template you just edited, from your computer. Depending on the size of your file, it may take a few moments to upload. ChMeetings will display a notice when your upload is successful. If needed, you can remove the file by clicking the "x" sign next to it. Otherwise, click Next when you are ready to continue.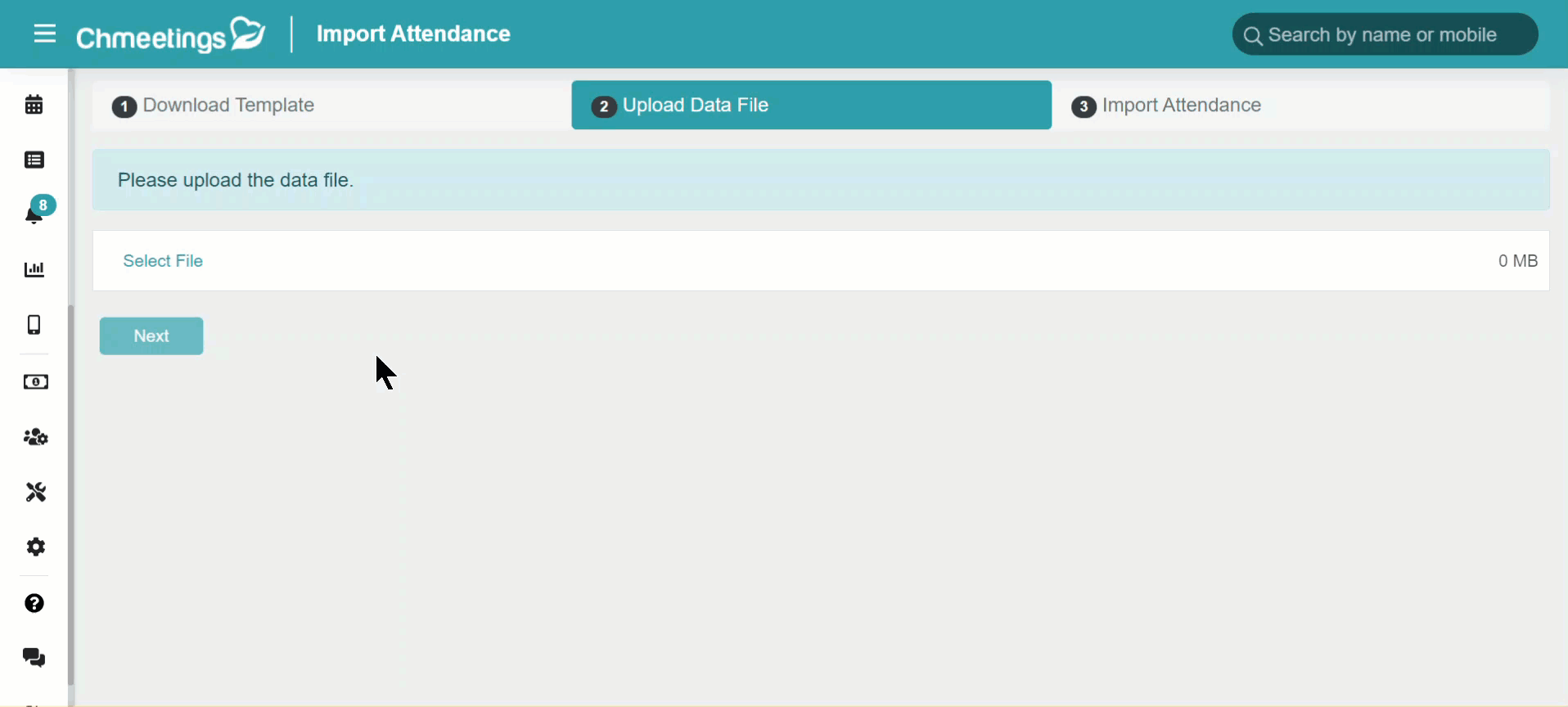 Step 3: Complete the import
This last step allows you to review the number of attendance records that will be imported for the selected event - overall and by date. If it looks good, then please click Next. If not, please abort the import and start over by refreshing the page. Please check your uploaded file and correct any issues you might notice here.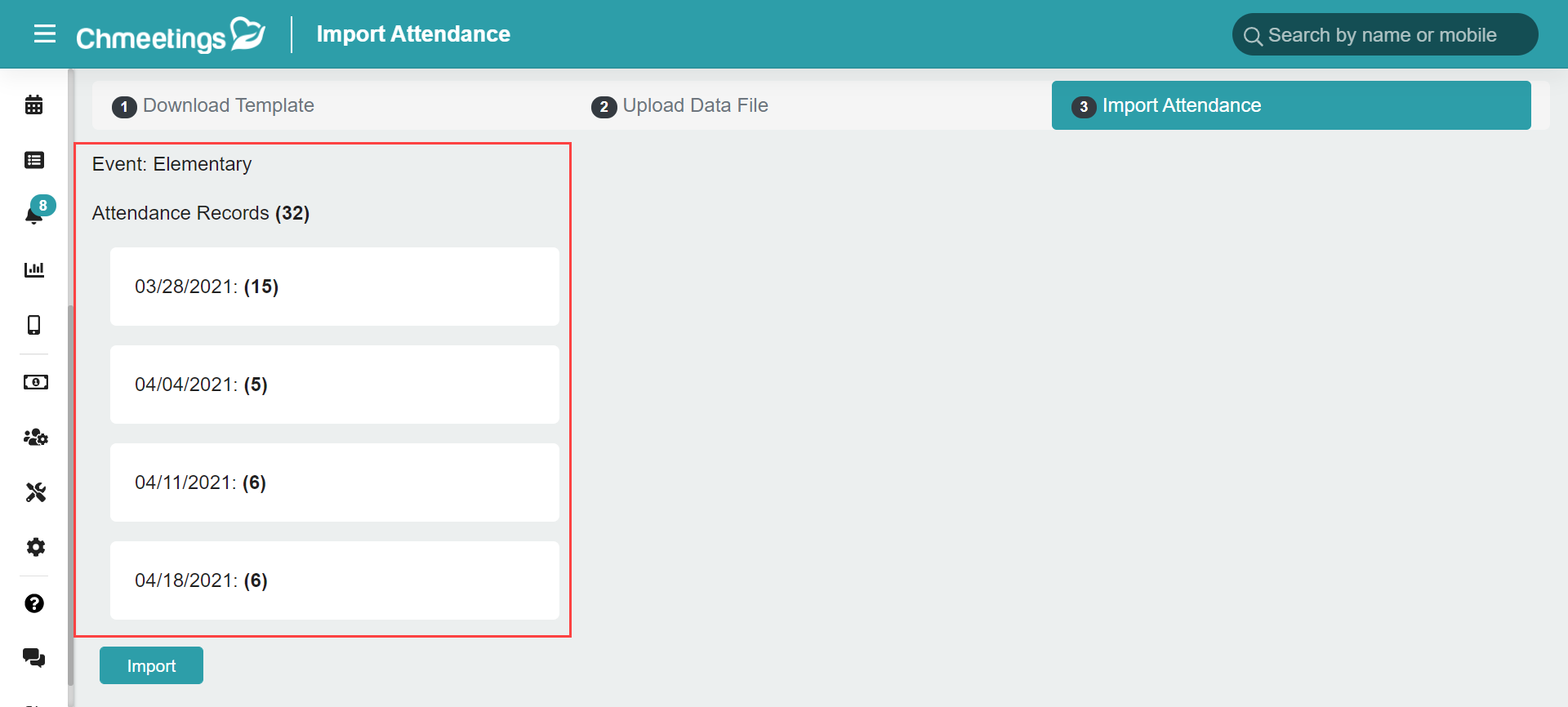 As soon as your import is successful, you will be notified and directed to your main dashboard.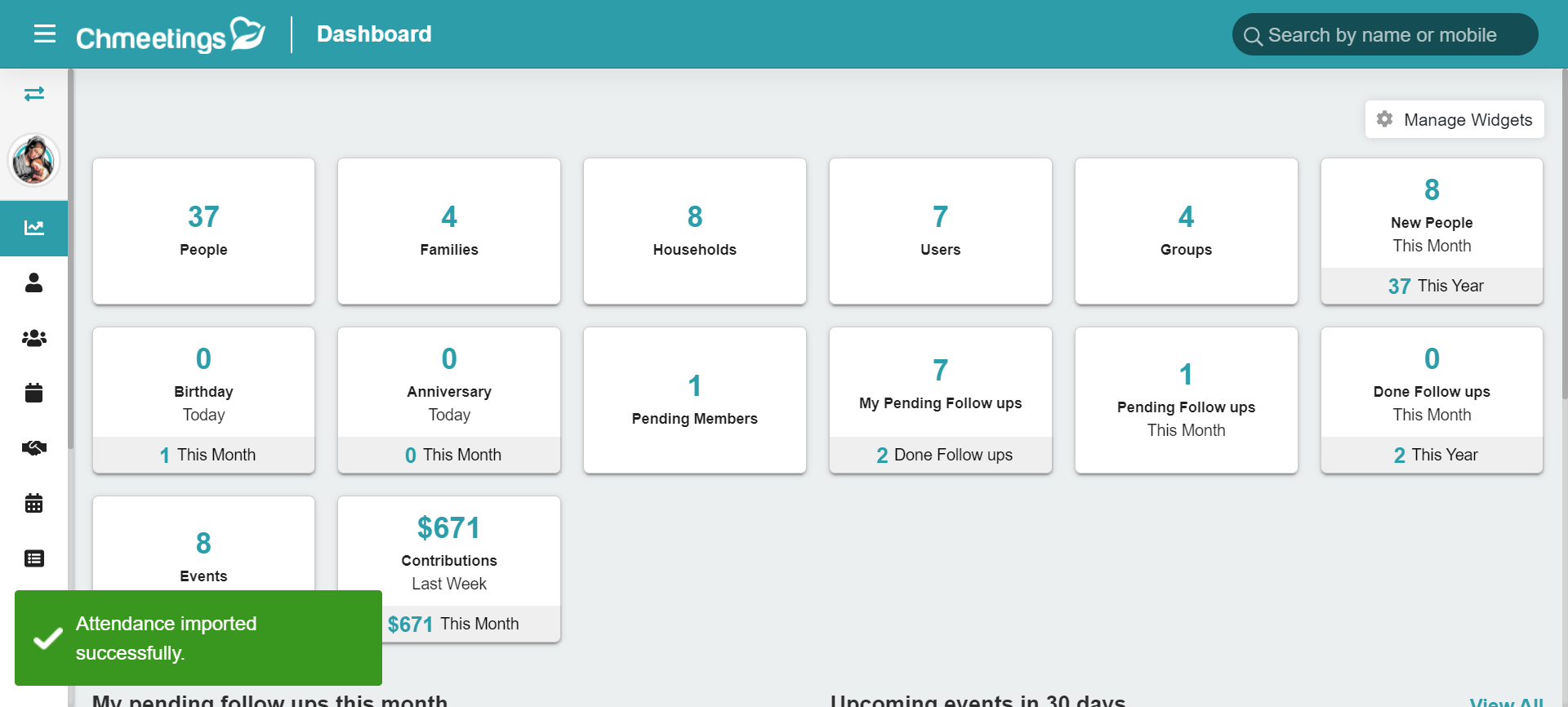 You can find attendance information about your events by going to Reports > Recurring Events Report. This will list complete attendance dates, which will include both existing dates, before the import, as well as the one you imported.