This is a paid feature
Contents
Introduction
ChMeetings allows you to easily publish a church blog, to both your members and your wider audience. The feature is accessible within the Member Portal area and this guide will show you how to use it.
What is the blog?
The blog is ChMeetings feature that allows you to easily publish articles, announcements, informative content, etc., to your registered members and also publicly. Members can read via their ChMeetings accounts, while anyone can read content you make public, via shared links and articles cards on your Guest View on the ChMeetings login screen.
How does the blog work?
It works just like any other blog: You can simply add your content, choose who can see it, then choose whether and how you want to share it more widely.
Creating your church blog
The steps to create your church blog are the following:
Go to

Member Portal > Blog

.

Create a new article

and make sure you set visibility preferences.

Share your new article

with anyone who has access. If you have set visibility to Public, then you can also use the Member / Guest View to share the article to anyone accessing your login screen, via an article card.
Let's now expand these steps and look at the process into more detail.
Creating a new article
To create a new article, simply follow the steps below:
Go to

Member Portal > Blog

.

Click

Add Article

.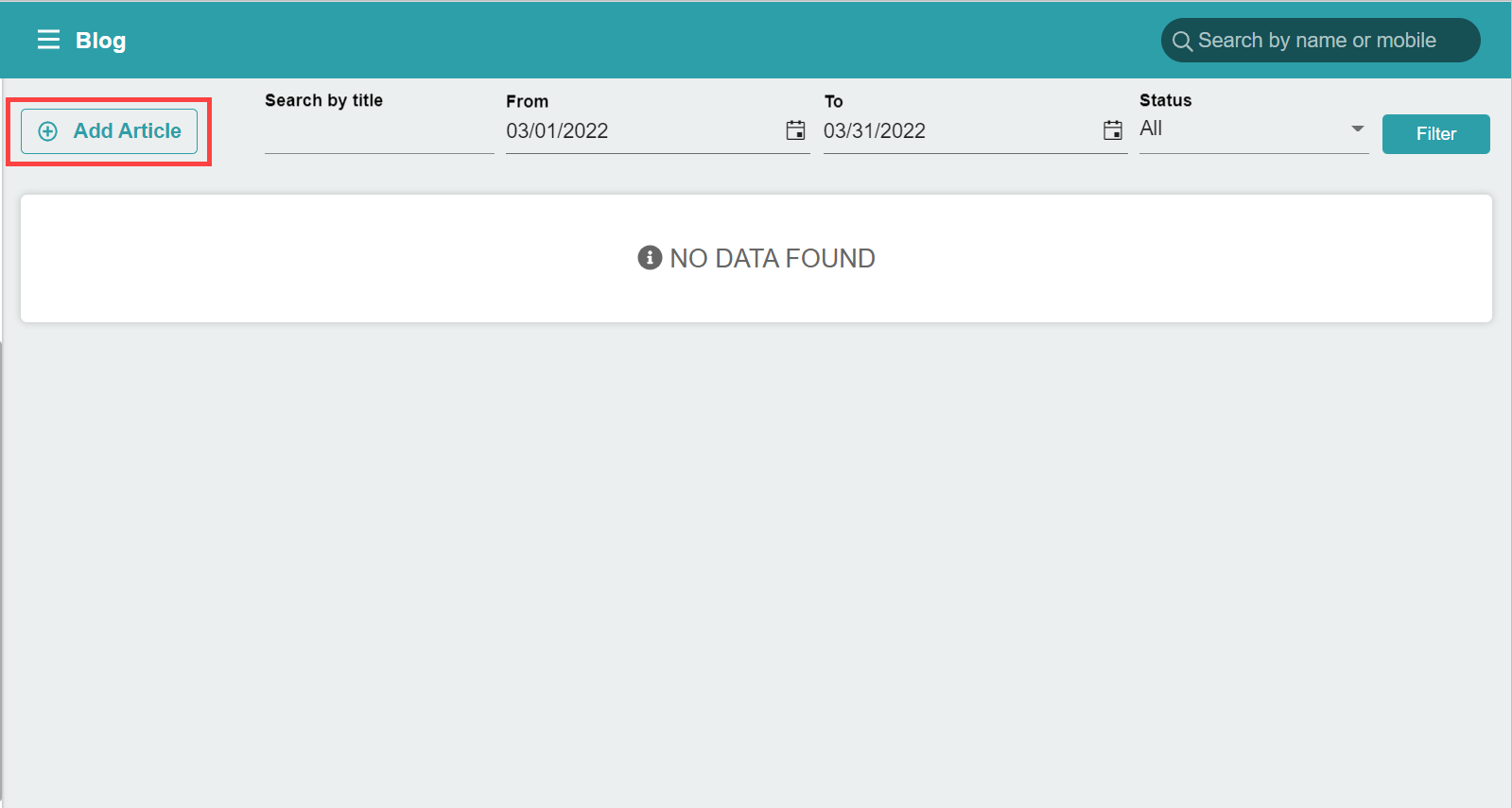 You will now see the article editing screen. Here is where you have the following options: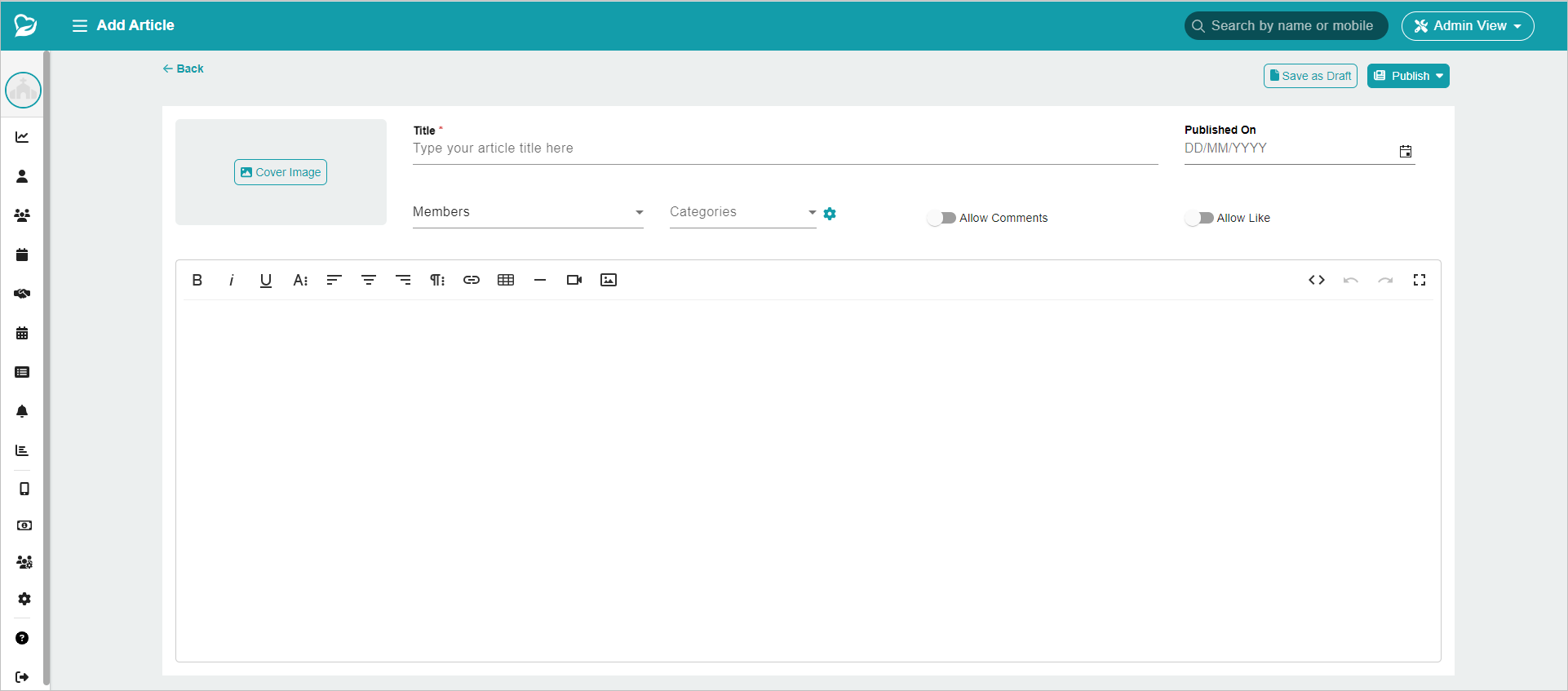 Add a title

.

Set the visibility

: You can set this to:

Users

- Only people with a ChMeetings User account will have access (Owners, Admins, Group Leaders, other users you create). This option excludes members.

Members

- People with Member accounts will have access to the article, in addition to Users.

Public

- Anyone has access to the article.

Add/Select a Category:

Use the dropdown to choose an existing category. To create a new category or manage existing ones, click the gear icon next to the Category option. In the window that comes up, you will be able to:

Create new categories,

Edit or delete existing categories.


Once you add categories, members will be able to use them to filter blog articles.

Allow likes and/or comments: Enable or disable the corresponding toggle to allow or restrict likes and comments. See Allowing likes and comments

below, for further details.

Set the Publish Date: This date can be adjusted after publishing the post.
Add the contents

of the article within the editor box. The toolbar at the top will help you adjust the formatting. You can use the HTML editor as well, if you like - it is the last option on the toolbar.

Upload a featured image

using the dedicated area at the top left. This image will be displayed along with your article.

Choose whether to save

a draft of your article,

publish

it or just

preview

it.
Blog options
The Blog comes with two main areas:
The articles list
This area allows you to:
See all of your articles at a glance.

Search and filter through your existing content using the options at the top. You can use keywords to search, filter by creation date or by status (All, Draft or Published).

Choose a specific article using its dedicated tile, where you can either delete, copy or edit it using the icons on the top right.

Please keep in mind that you cannot restore an article once it has been deleted.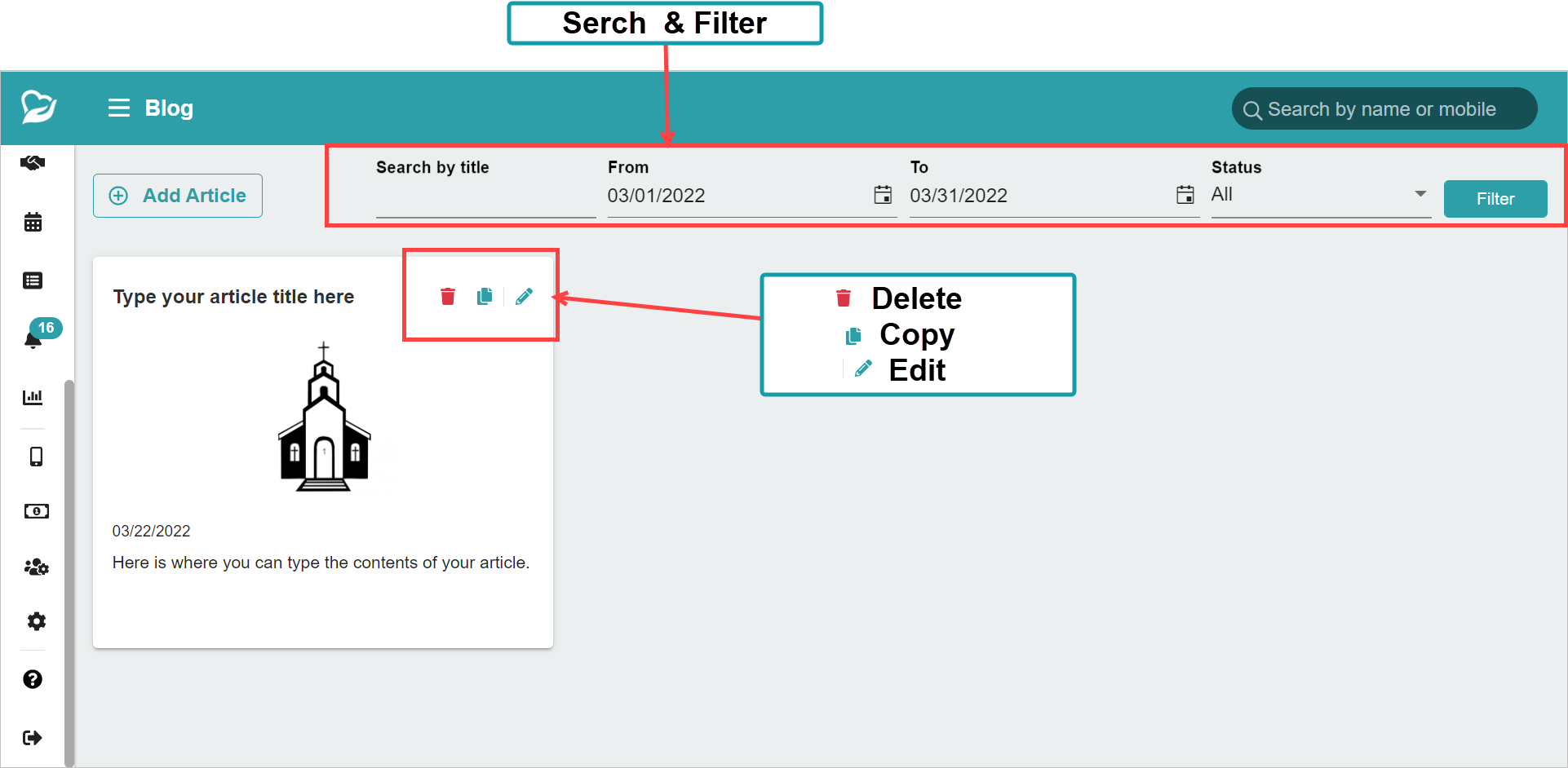 The blog editor
You can edit any article using the dedicated tile within the article list, where you can click the Edit (✐) option next to the article title. This will open the main article editor where you can add and edit your contents, set and update the visibility or the featured image.
Here is where you can also save or revert the article to draft, publish or preview it.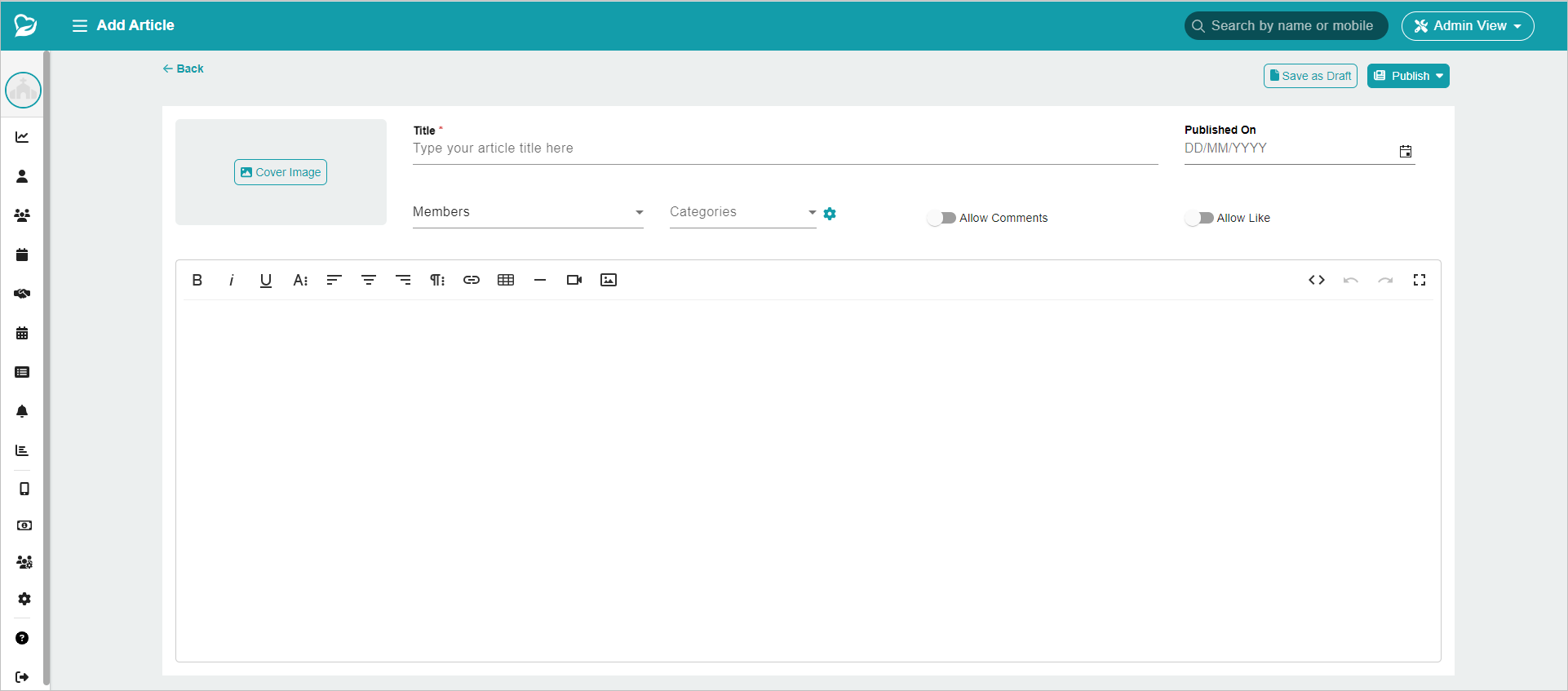 Notifying members of new articles
When publishing an article, you can choose whether to publish it with or without notifying members.
Choose

Publish

to opt for publication without notifications.

Choose

Publish and Send Notifications to All Members

to opt for publication with notifications.

Using Categories
You can categorize your blog articles according to criteria of your choice. Use the Category tab to select one or multiple categories to assign to your article. Click the gear icon on the right side of the option to create new categories, edit or delete existing ones. When browsing your blog, members will be able to filter articles by category. Below is a demo of the categories feature.

Likes and Comments on Blog Articles
Allowing likes and comments
Turn on the Allow Comments or Allow Like toggle to enable the comments or likes features for the post. If the toggles are turned off, then members will not see the option to like or comment.

Viewing who liked a blog article
You can view a list of members who have clicked the Like button on a blog article by going to Member Portal > Blog, and then clicking the Like button under the article for which you want to view this list.

Like and comment features for members
If you enable likes and comments for a blog article, then members will see a Like button and a Comment box underneath your content. Members can edit their own comments after having posted them.
Comment management features are not yet available.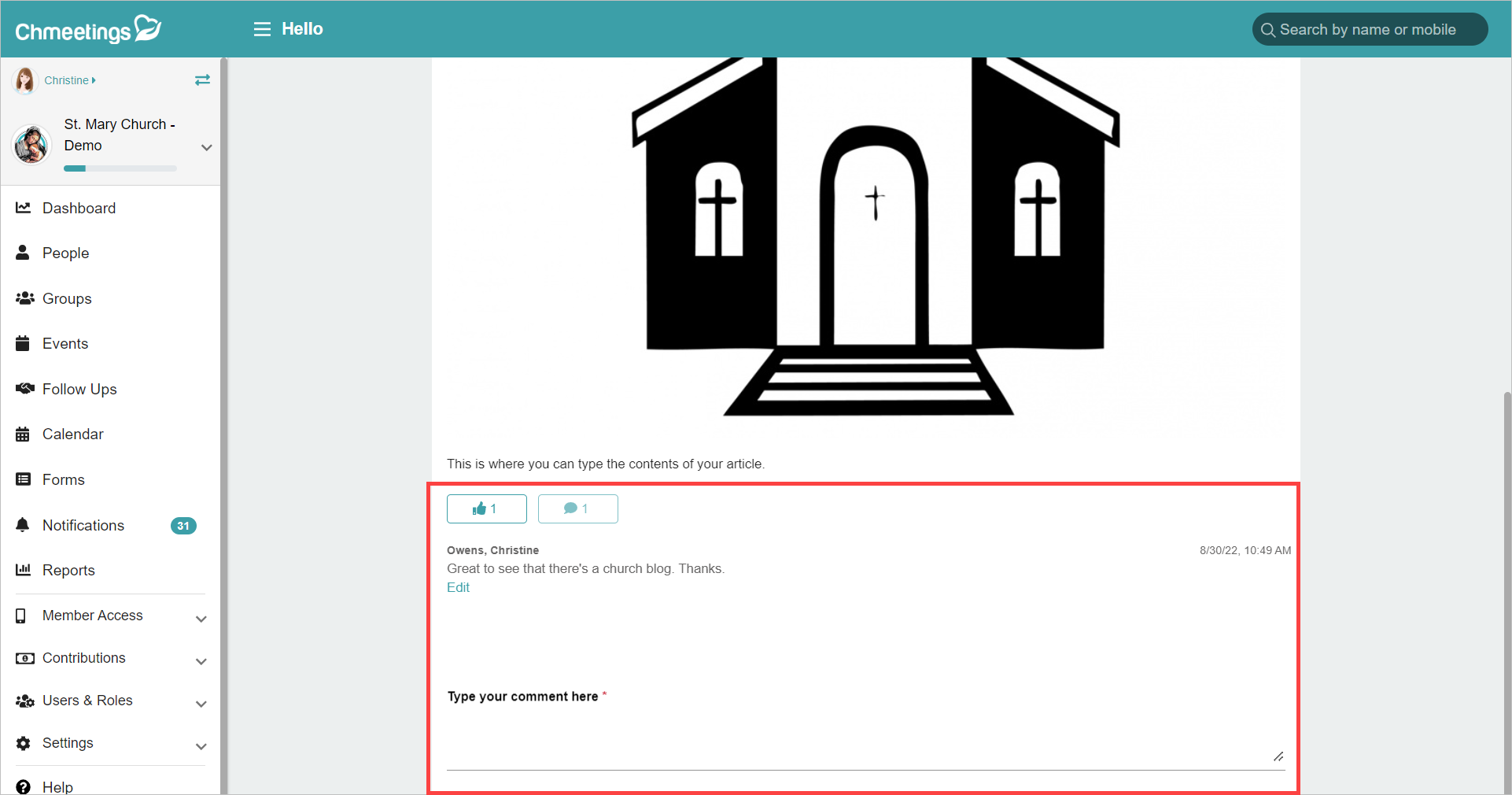 Sharing an article
An article can only be shared once finalized and published. Sharing is possible either via a link which you can add anywhere on the web, or by adding the article to your Guest / Member View.
Sharing via a link
To get a shareable link for your article, simply click on its corresponding tile in the main list of articles. This will take you to the view mode, where you will find a Share button. Click on it to get the link.
In the share popup, you can copy your shareable link or choose to post it on Facebook or Twitter, or to send it via Email.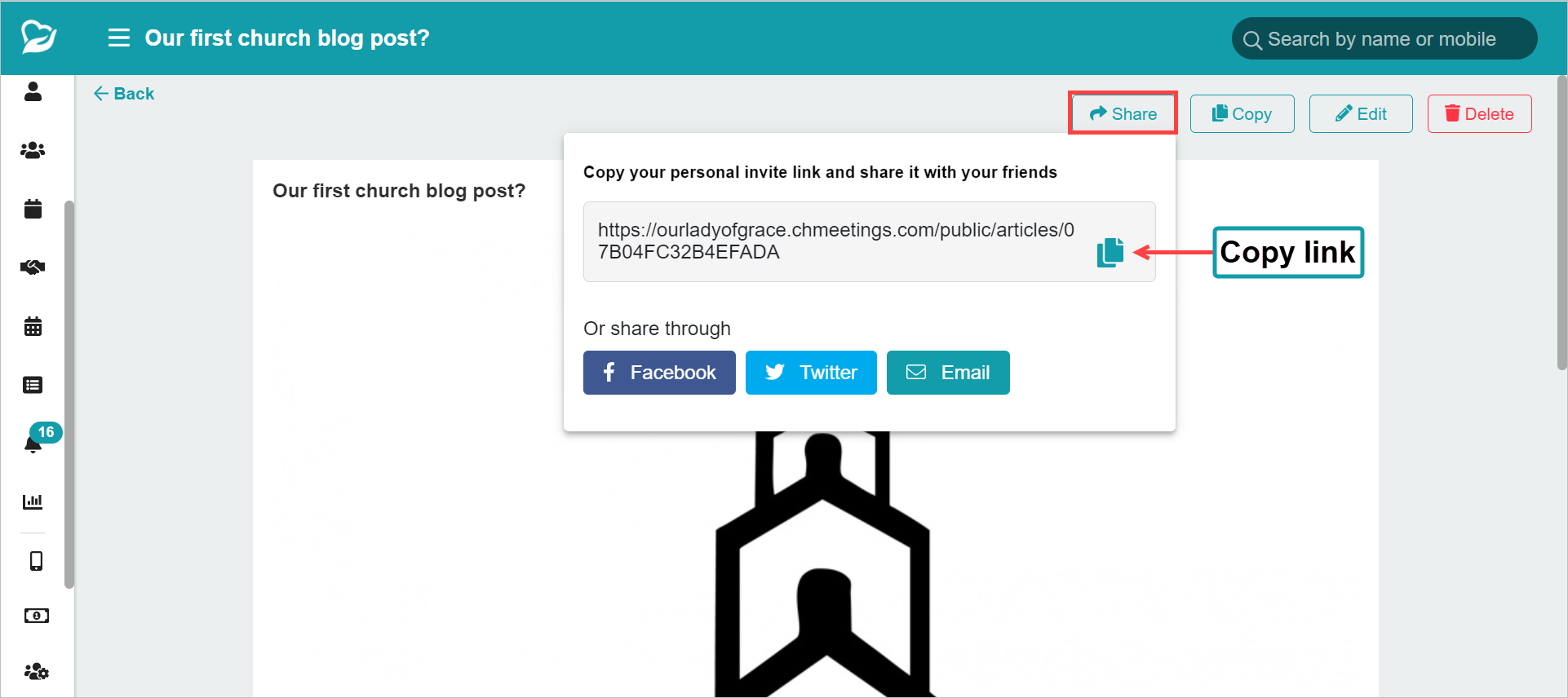 Adding a blog article to a card in your Guest / Member View
Any blog article that is visible to members or the public can also be added to a card within your Guest / Member View. To do this:
Go to

Member Portal > Settings > Go to the Builder

.

Drag an Article Card to your view

, then choose which article to display and who it should be visible to.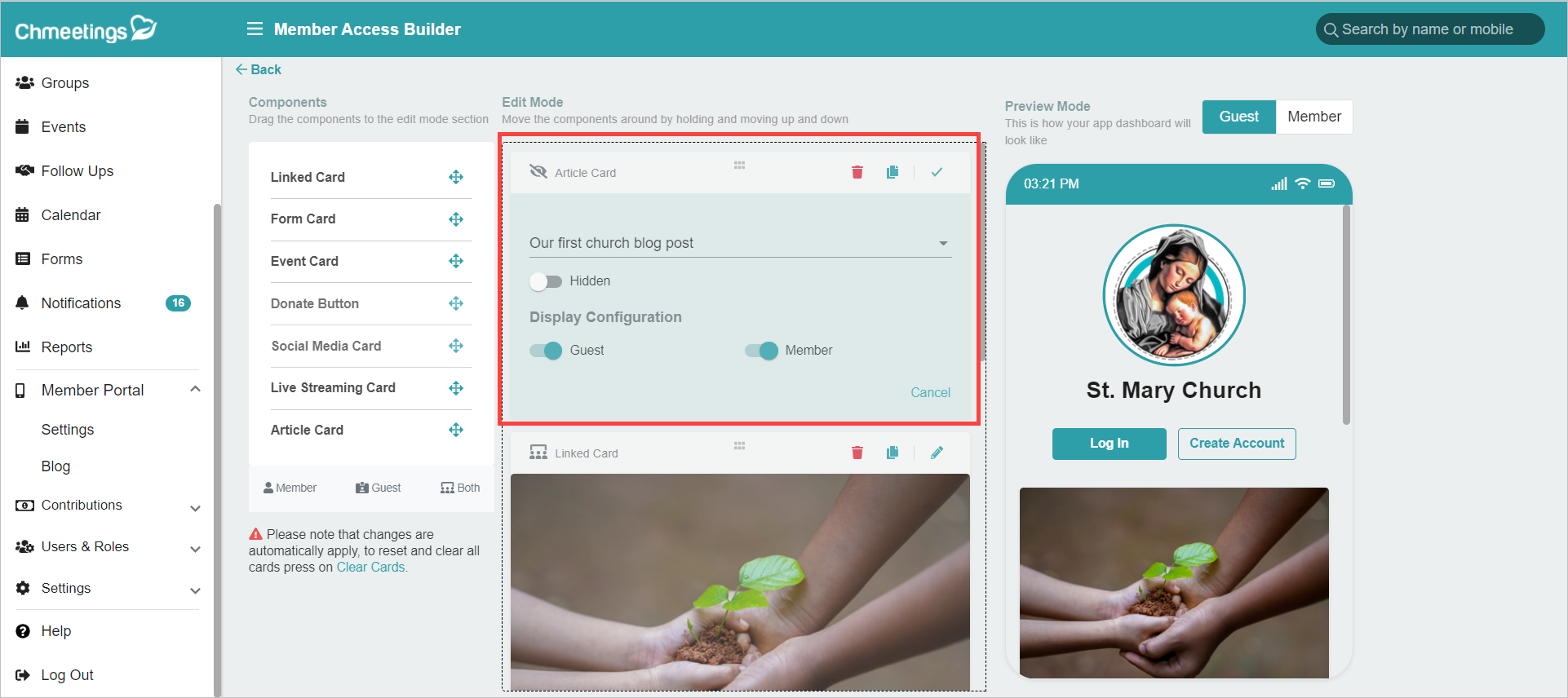 Once set up, your article card will be visible on your church URL / Login screen, for guests and/or members to read.
Learn more about building your Guest / Member View.