Contents
Viewing the list of submissions for a form
Once people submit a form to your church, you can find all of their submissions associated with the respective form, as follows:
Go to the

Forms

module,

Find the form

you need.

Click your form's

options button

.

Click on

View Submissions

.

Advanced Search Filters
You can easily filter the submissions list to those relevant to your needs. Using the Advanced Search feature, you can find the submissions that contain the exact answers you select.
To access it, simply click the Advanced Search button, next to your filters, on the top right.
You will have access to each question in your form and you will be able to select specific answers, or even a combination of multiple answers.
In addition, you can use the Filter By list to narrow down to submissions that are either linked or unlinked to a person's profile.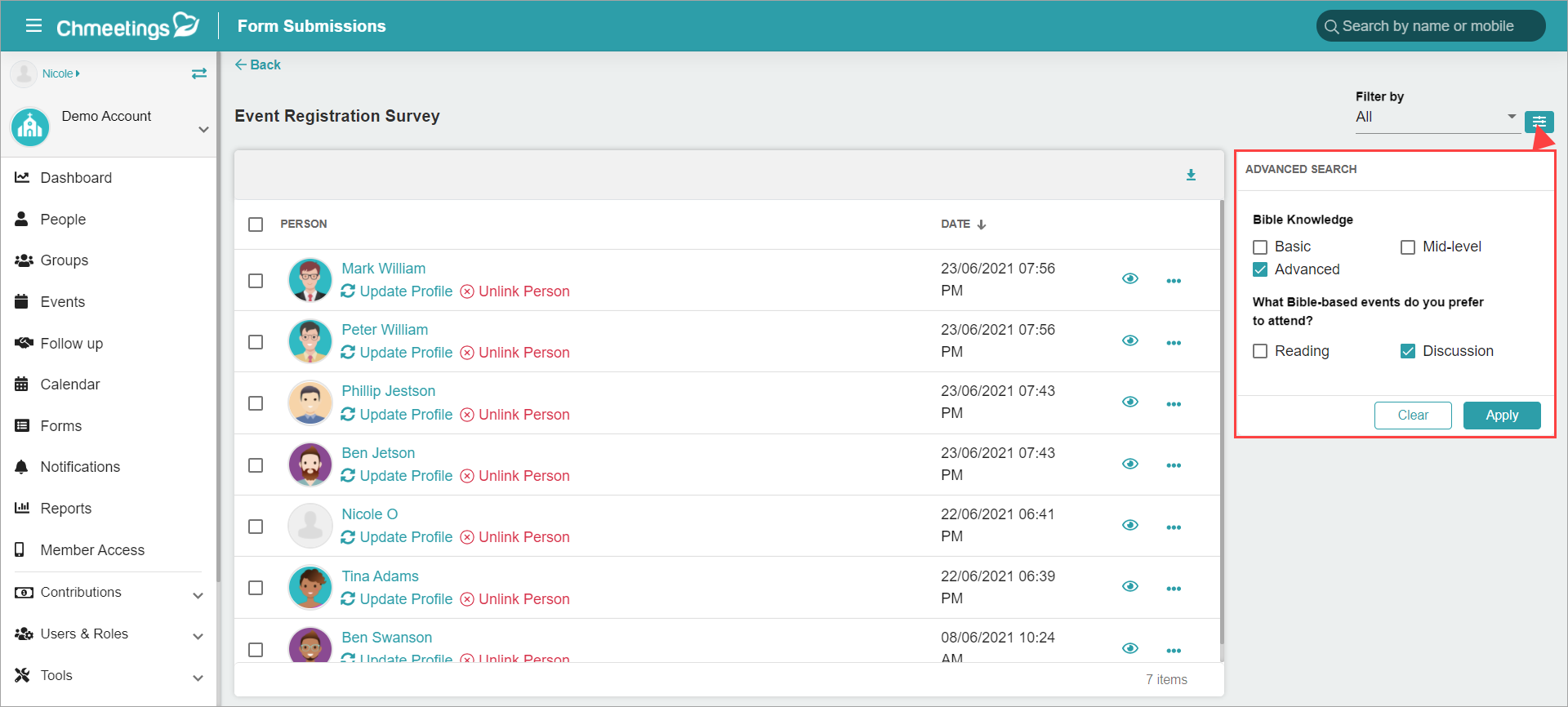 Linking a form submission to a person
Why do you need to link form submissions?
This may be required when you decide to share forms openly, without limiting them to members only. In this case, people may submit without being logged into a ChMeetings account, so their submissions cannot be associated with a profile automatically. The main reason is that some of those who submit may not have a profile to begin with. In case people with existing profiles submit forms without logging in, you have the opportunity to check the information before it is associated with their profiles.
How to link form submissions to people?
There are two situations that will arise when linking submissions to people: either the person who submitted is identified, or it is not. ChMeetings will tell you which is the case, for each submission.
When the person is found
When your form contains a name, email or phone number, the system may associate it with a profile, even if the person was not logged in when submitting.
If this happens, your submission item will allow you to visit the profile that has been identified based on the form, and if it is correct, link the submission to it. Just click Link submission to do this. If you think that this is not the correct profile, then please click Link with another person. You will have the option to search for someone else and associate the submission correctly.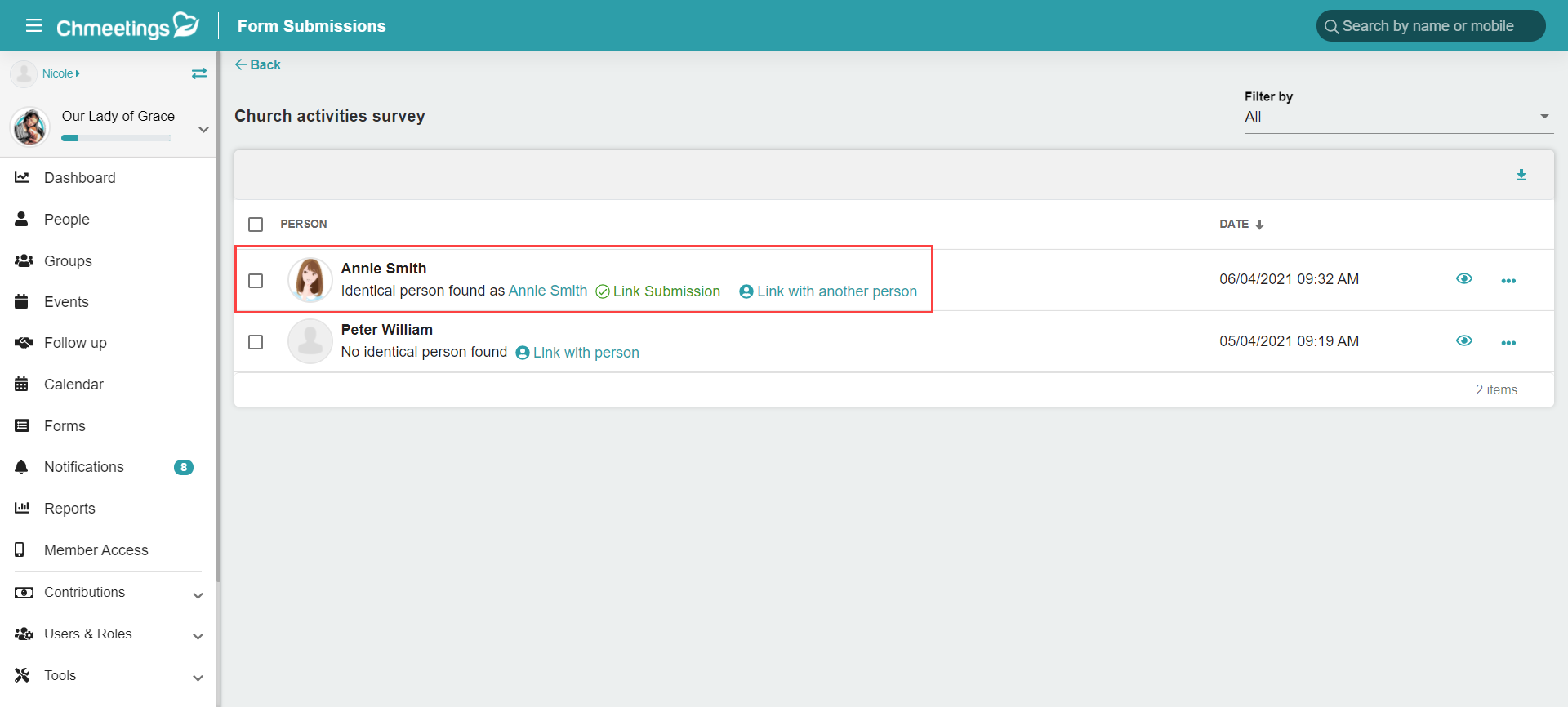 When the person is not found
When no one could be associated with a form submission, you can do this yourself, by clicking Link with person. A few elements you can use to identify the person is: their name, email or phone number (it can happen that someone submits while not logged in and also misspells a piece of information that prevents the system from identifying them).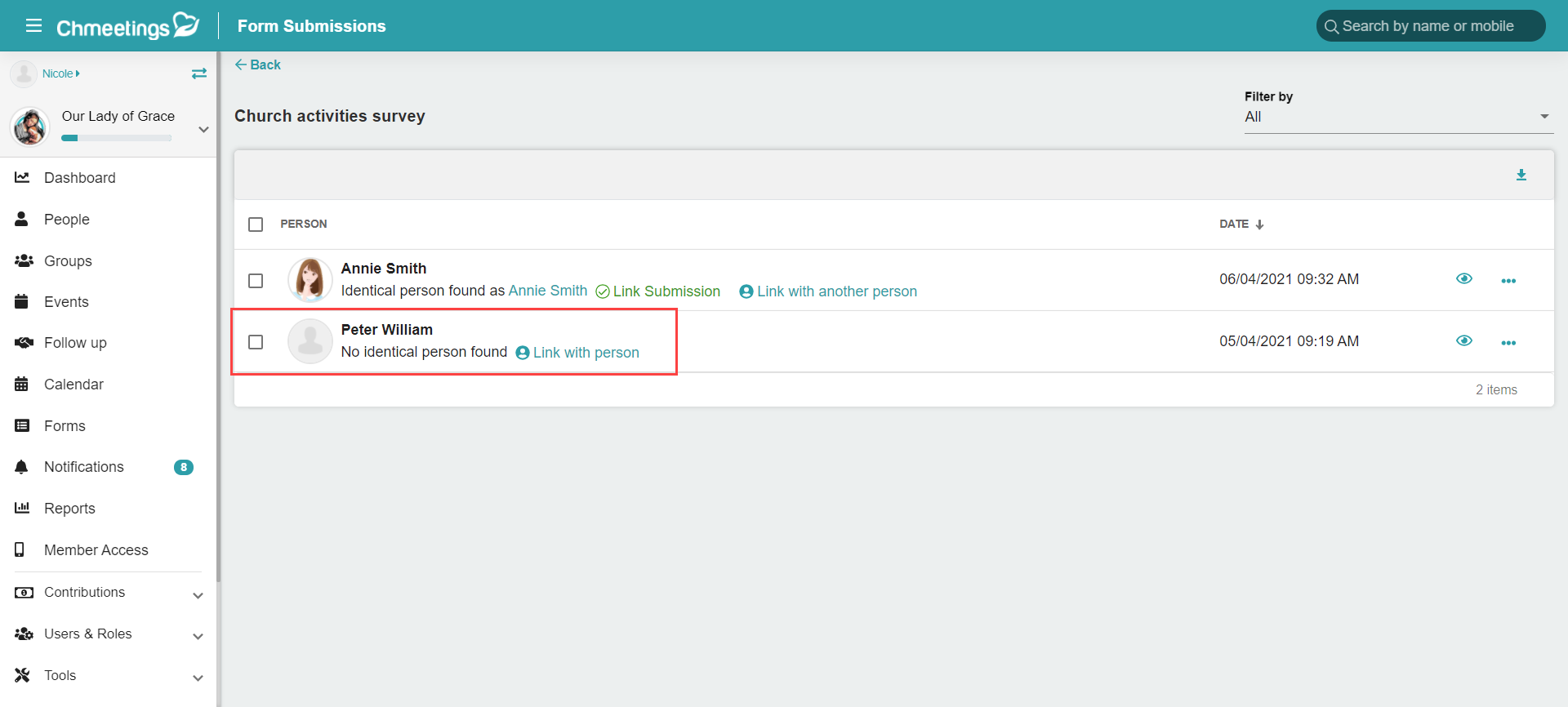 When linking, simply search for a person, then click Connect.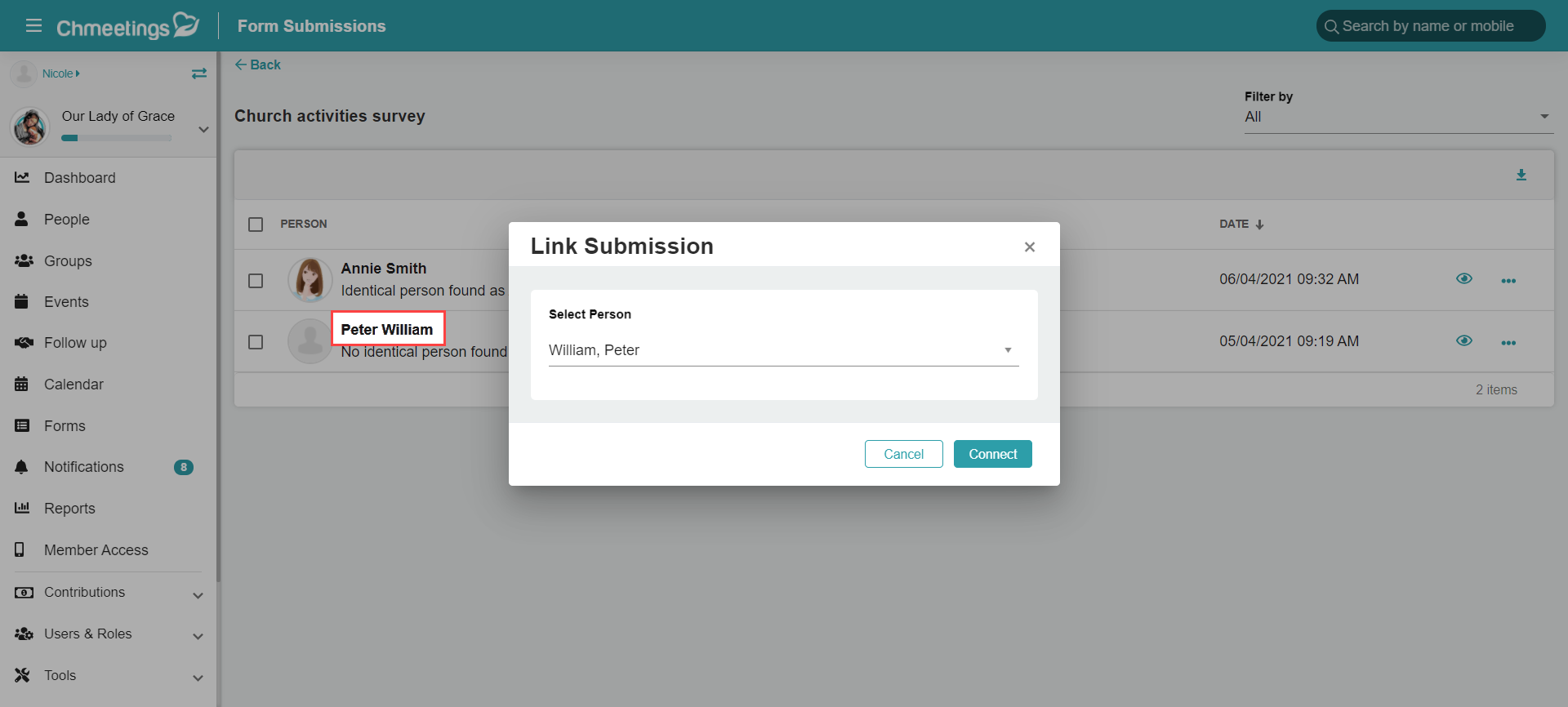 Once the submission is linked, it will show the person's basic details and profile picture.
If you think a submission is linked incorrectly, you can unlink it and start over.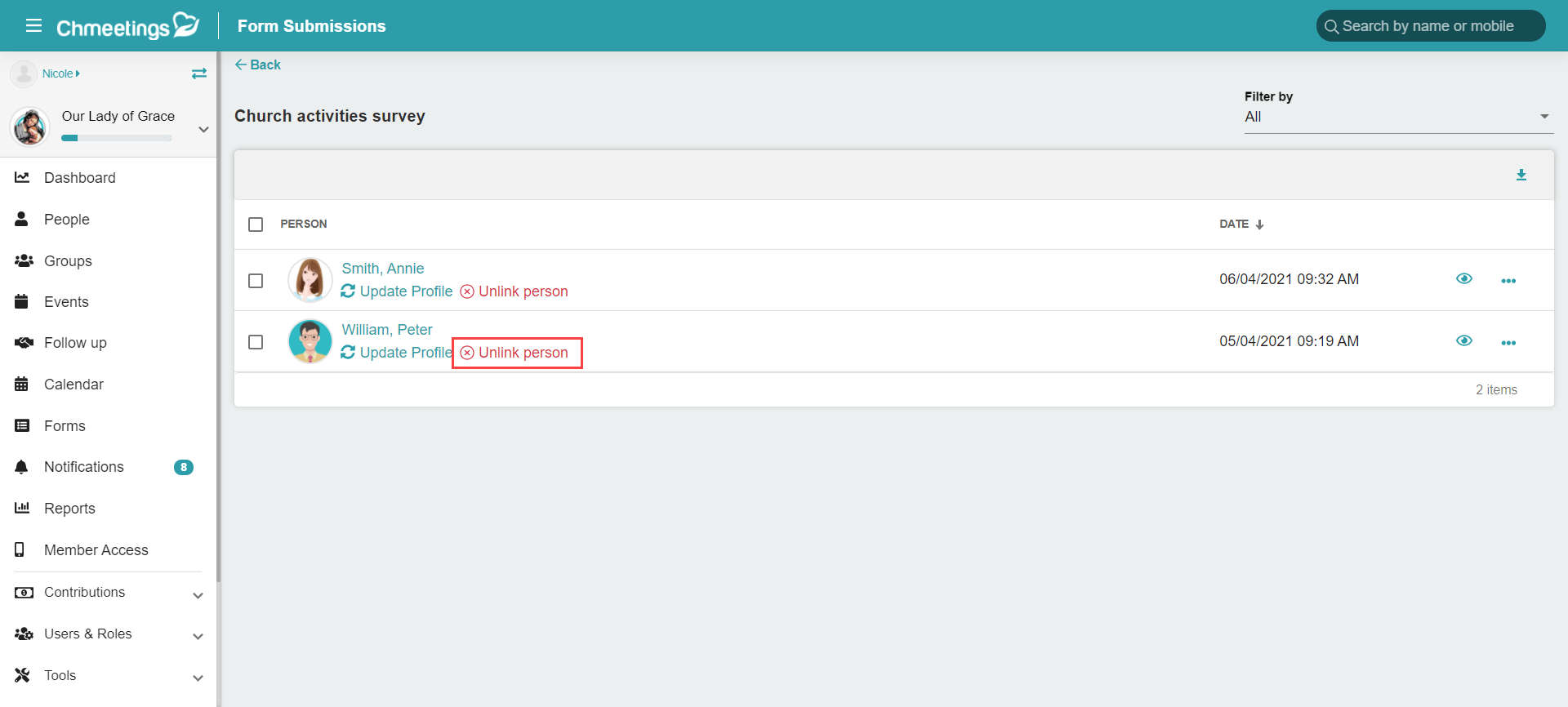 Updating people's profiles based on form submissions
You can update people's profiles by using profile fields within forms. This way, the field that you include in the form can be updated after submission.
This is easily done if the person is identified. Simply click Update Profile, on the person's submission, to get started.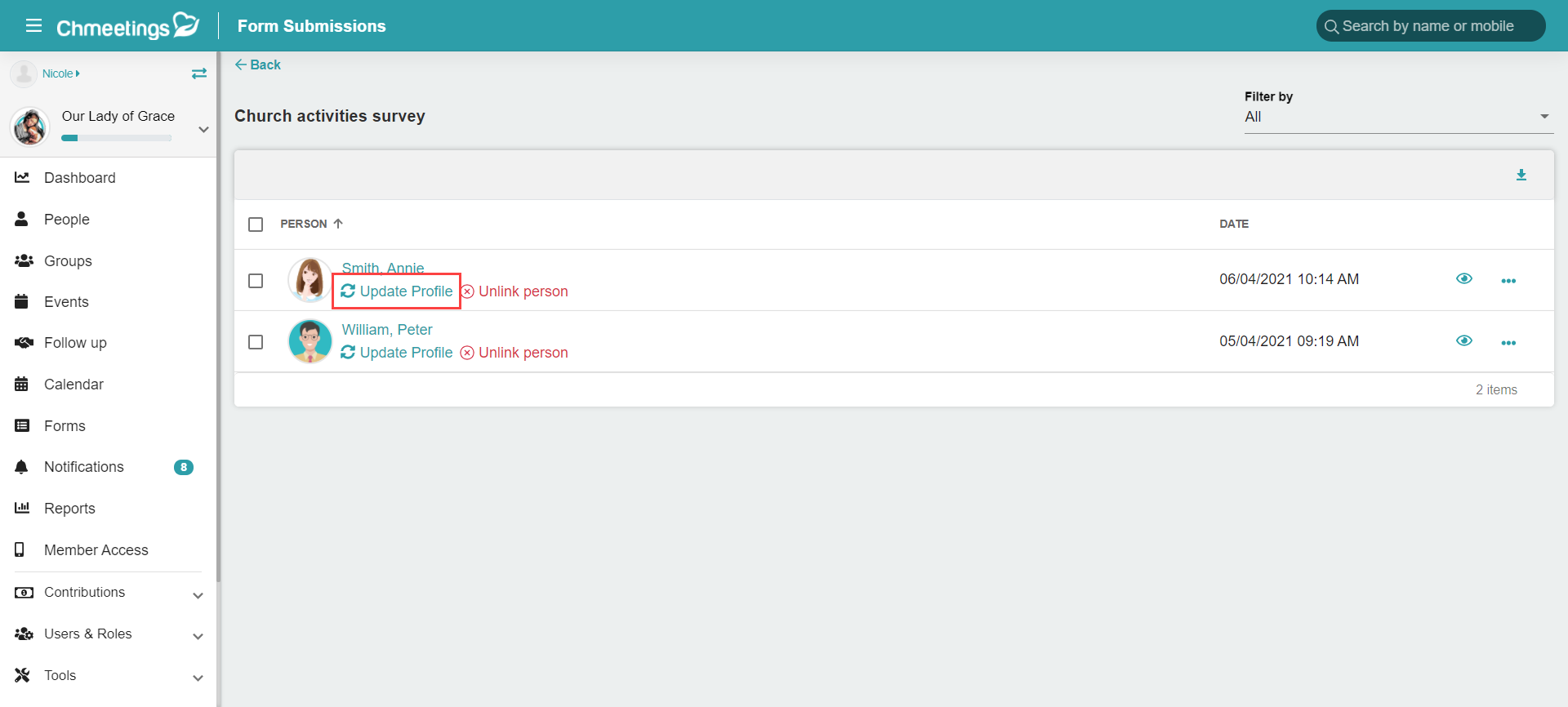 You will now see a list of submitted profile fields for which the contained data is different from that in the profile. Simply choose which fields to update and click the Update button. This will automatically replace the profile data with the one from the form submission.

Creating profiles from form submissions
If there are form submissions from people with no profile, you can easily add them using the Add People option.
Simply select the people for which you want to add profiles, click Bulk Actions then Add People.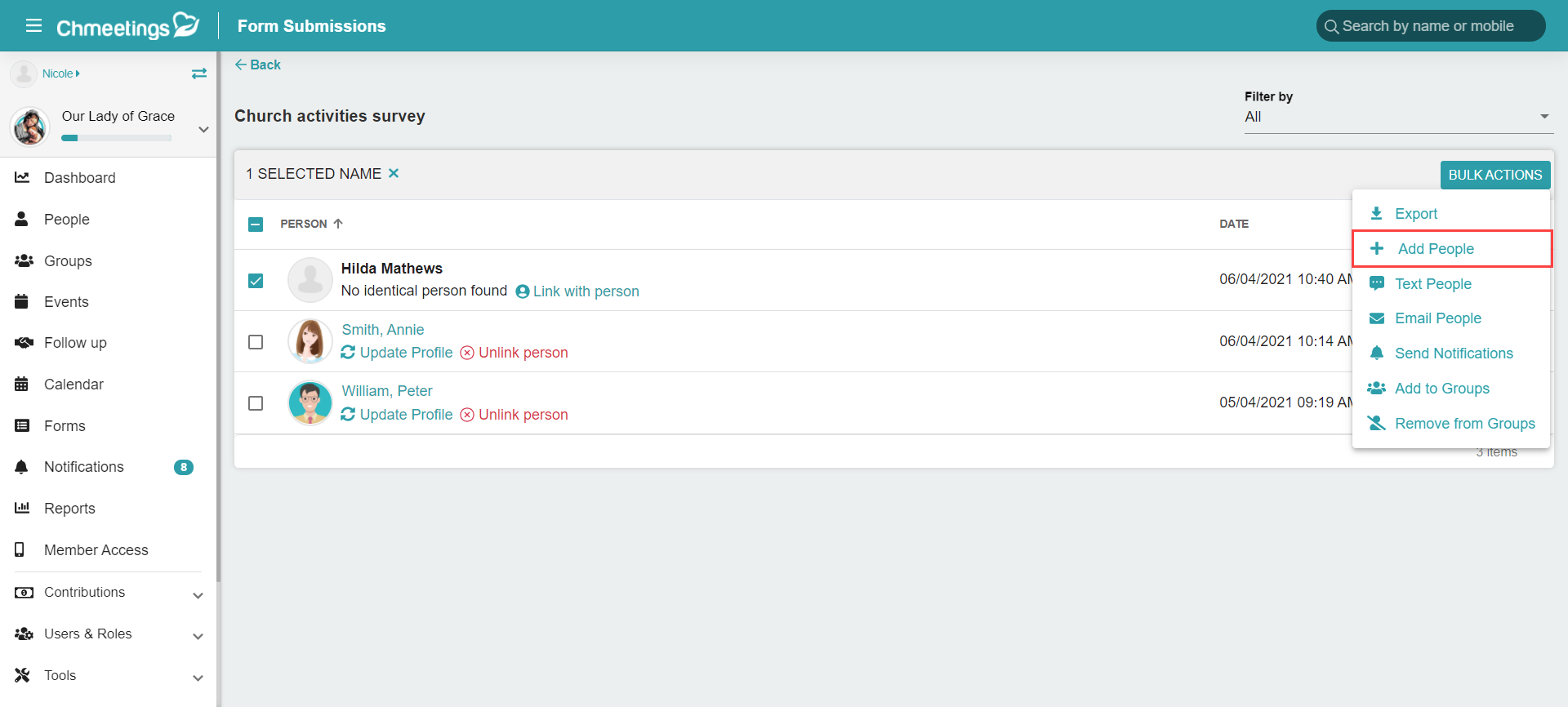 Next, select the Group to which you would like to add the new people, and click Add.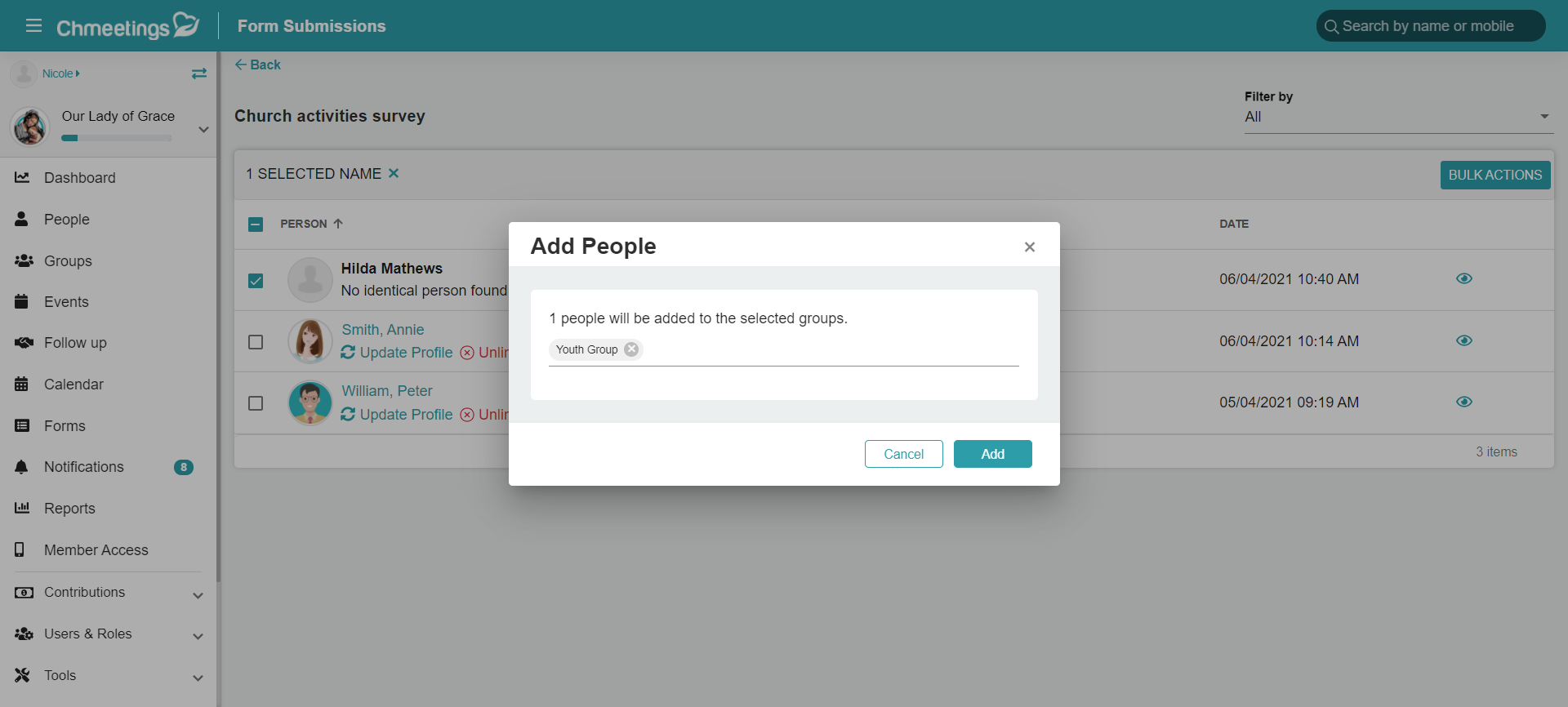 The person who submitted your form now has a profile with your church.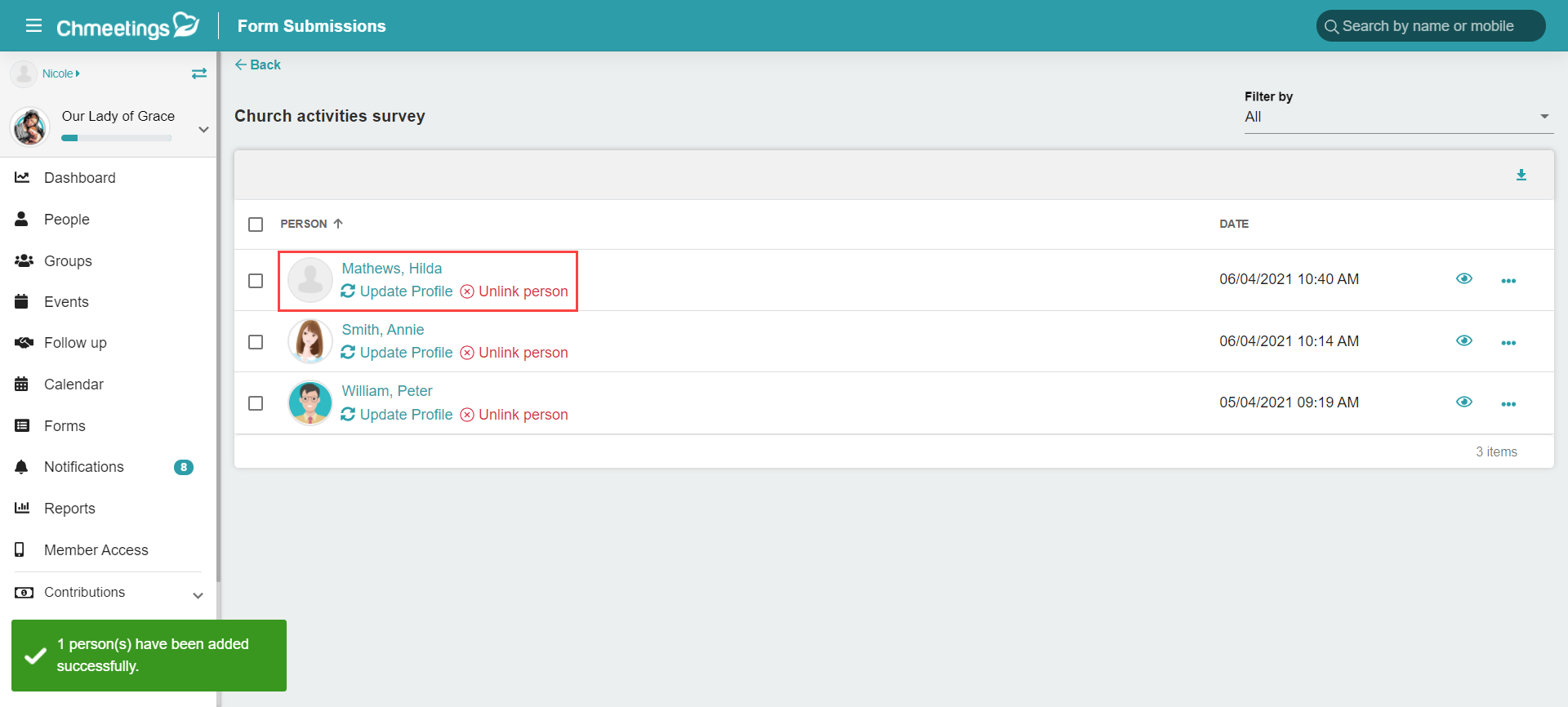 Other form submission options
Bulk actions
By selecting one or several submissions, you can access the Bulk Actions menu, which includes options to:
Export

the list of submissions (as an excel file, a pdf file or a letter).

Add people

allows you to create profiles for people who submit forms, as shown above.

Text or email people

.

Send a mobile notification

to the selected people (they have to be logged into the mobile app to receive it).

Add selected people to groups.
Remove selected people from groups.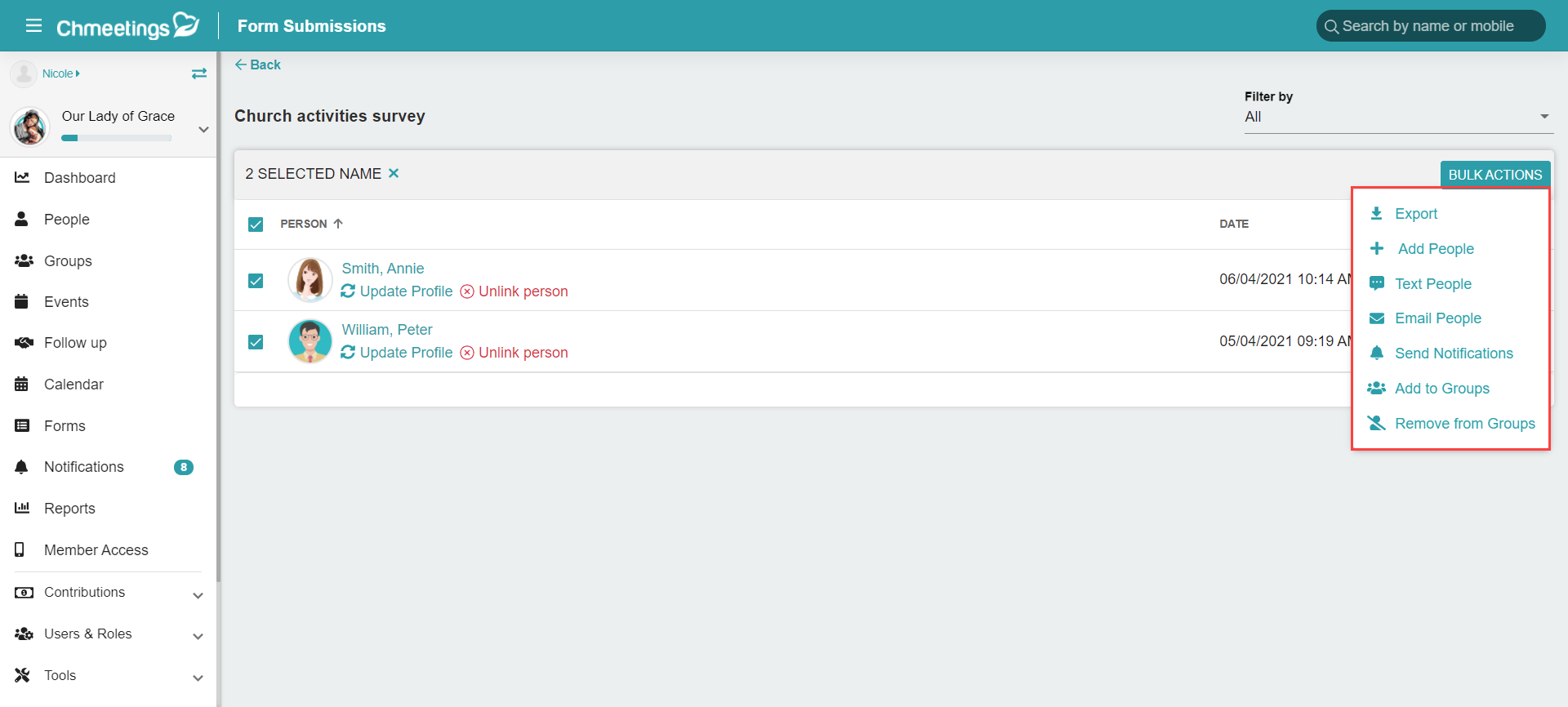 View someone's submission
You can view each individual submission by clicking its corresponding eye icon. Alternatively, click the options button then select View Submission.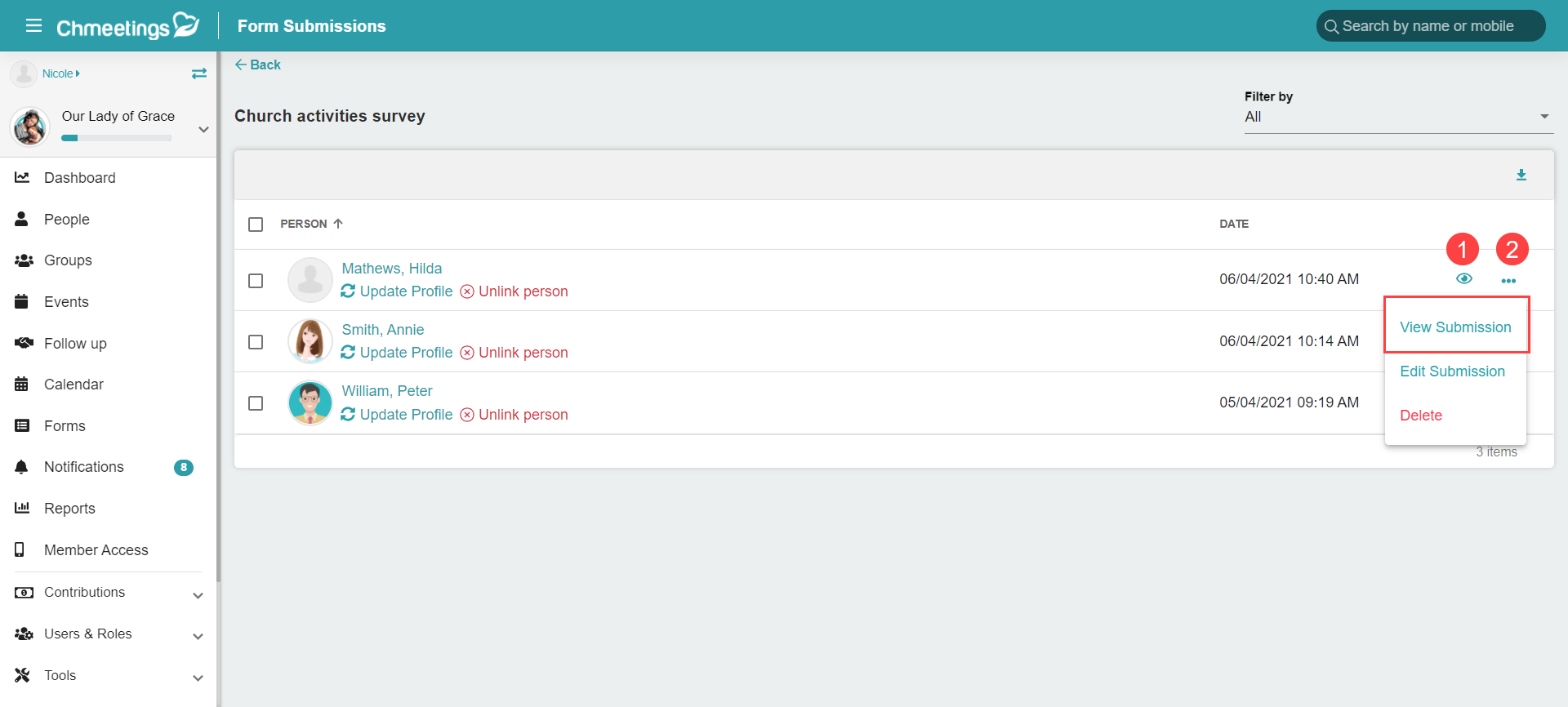 This opens a preview of the submitted form.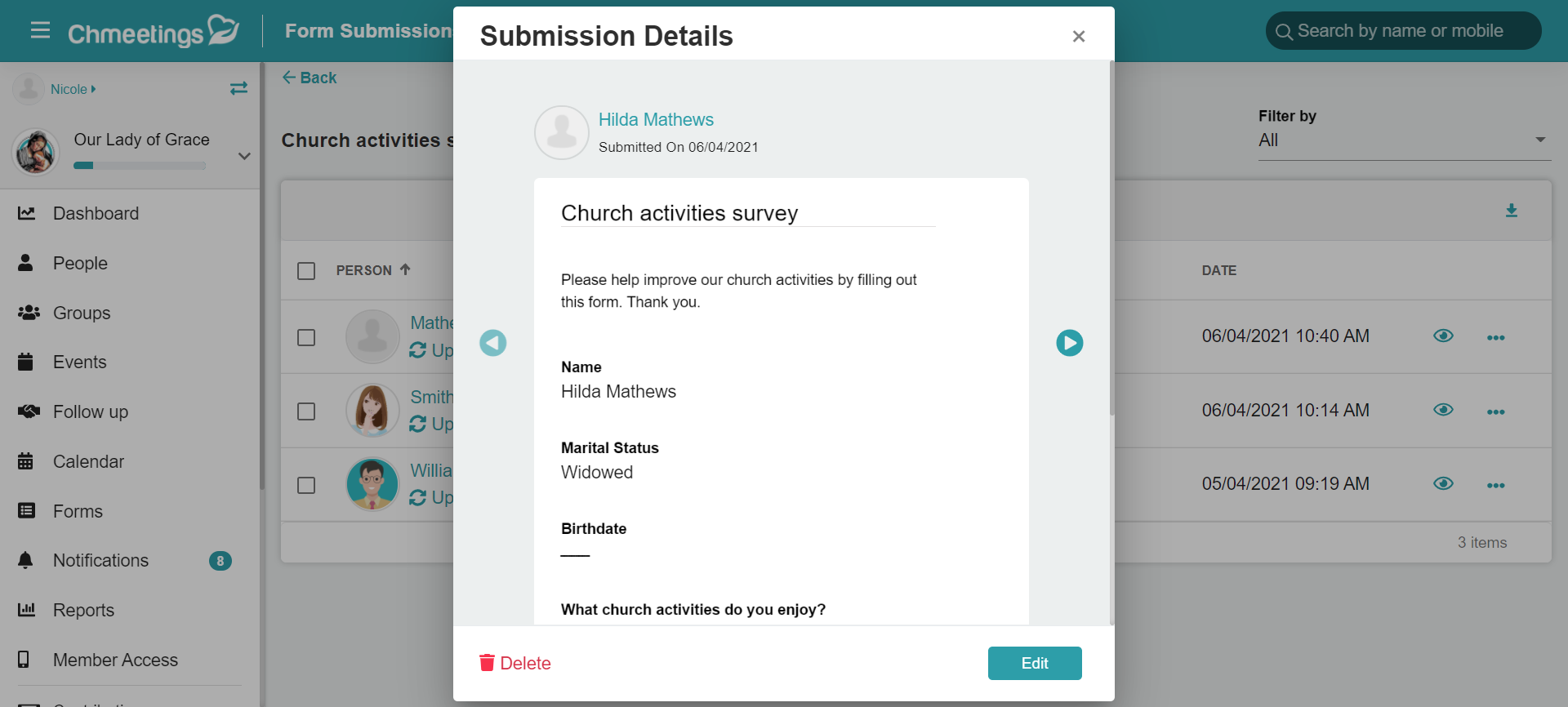 Edit submissions
You can edit submissions either from the preview (Edit button at the bottom right) or from the options menu > Edit submission.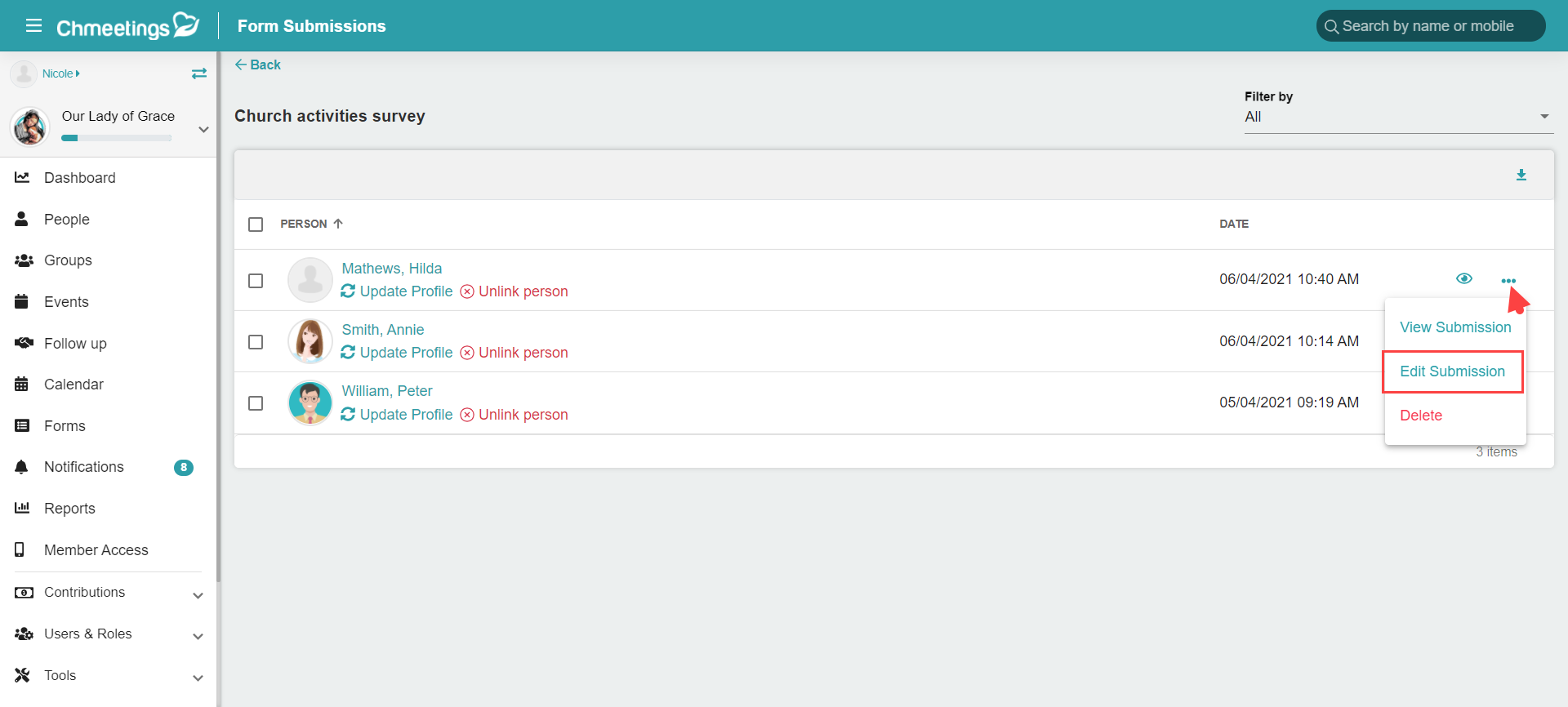 Delete submissions
You can delete individual form submissions, either from the submission view or the corresponding options menu, by clicking Delete.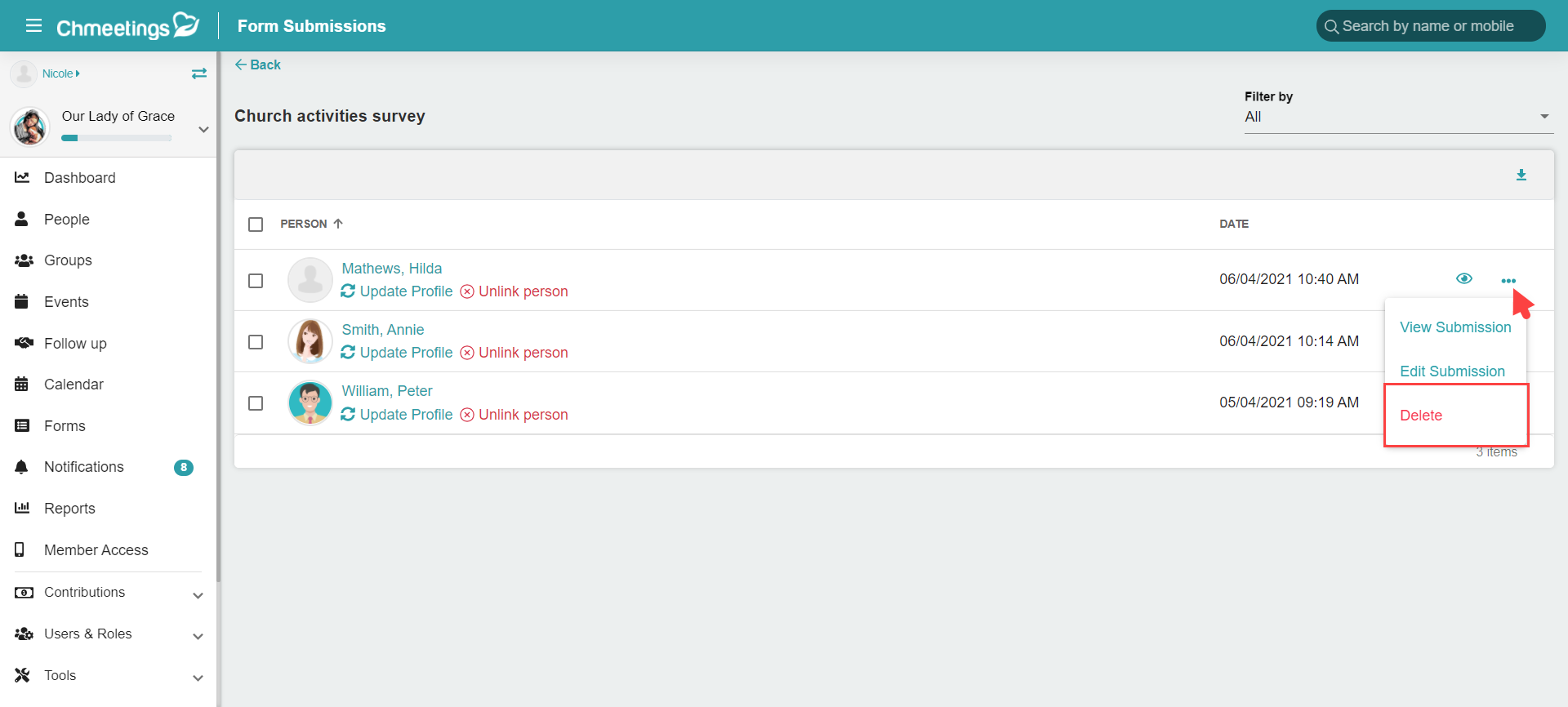 Please note that deleted submissions, including all submitted information cannot be restored. Please confirm your choice by clicking Delete, or click Cancel otherwise.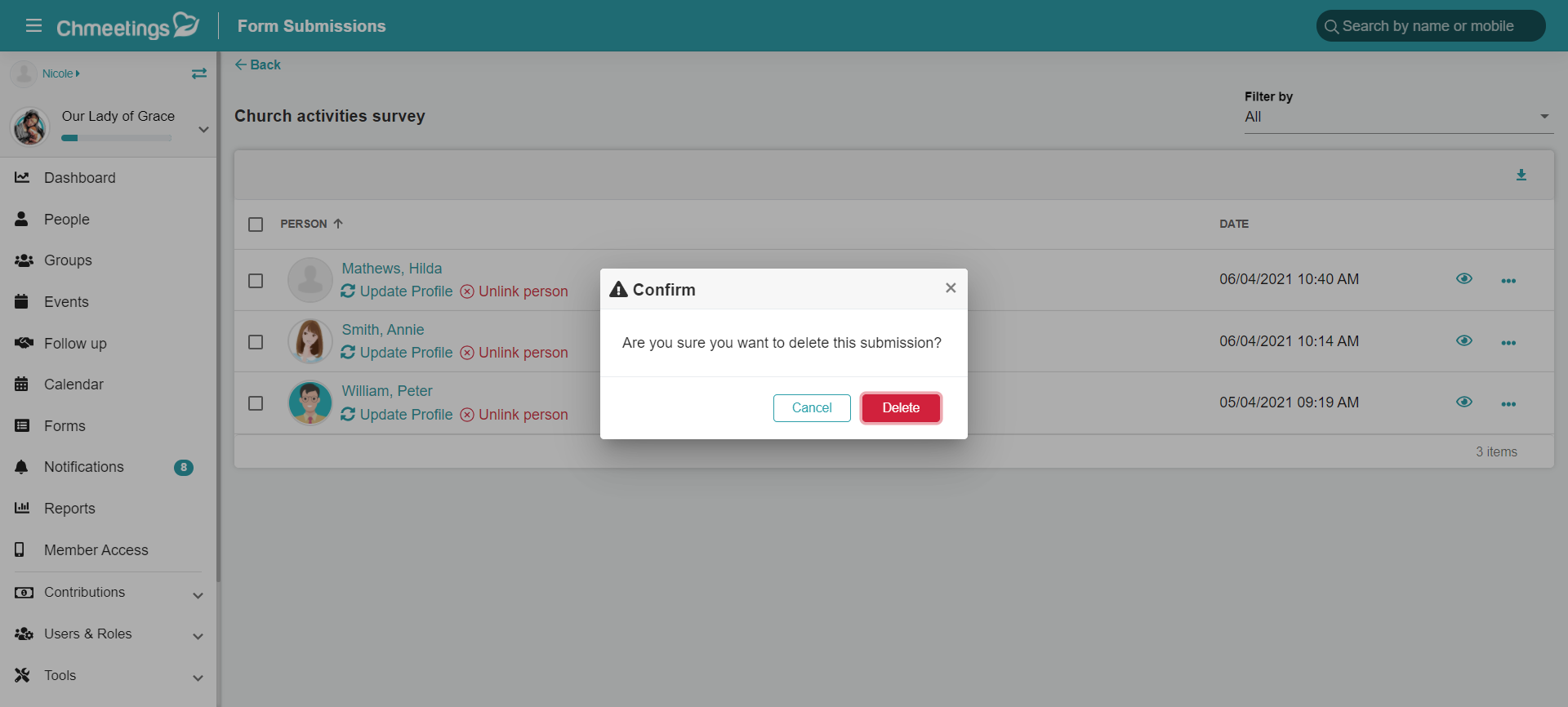 View Statistics
Under the form submissions area of each form, there is a Statistics section, where you can see a submission and completion rate summary and pie charts for each question.

The statistics window contains information about the following:
The number of form views,

The number of form submissions,

The Completion Rate, designating the percentage of completed form fields. This can be lower than 100% if your form contains non-mandatory fields.

The Average Completion Time,

The responses provided to each question. Multiple Choice, Checkbox, and Dropdown fields display responses as pie charts. The Star Rating field displays an average rating, as well as percentages of respondents who have provided each rating.
You can export each question field or the entire list of form submissions.