Contents
Communication Tools
There are multiple ways to communicate with your congregation using ChMeetings.
Phone calls
You can call people directly from within their profile. Their number will be picked up from within ChMeetings and you can call them using your preferred phone app or your mobile voice plan.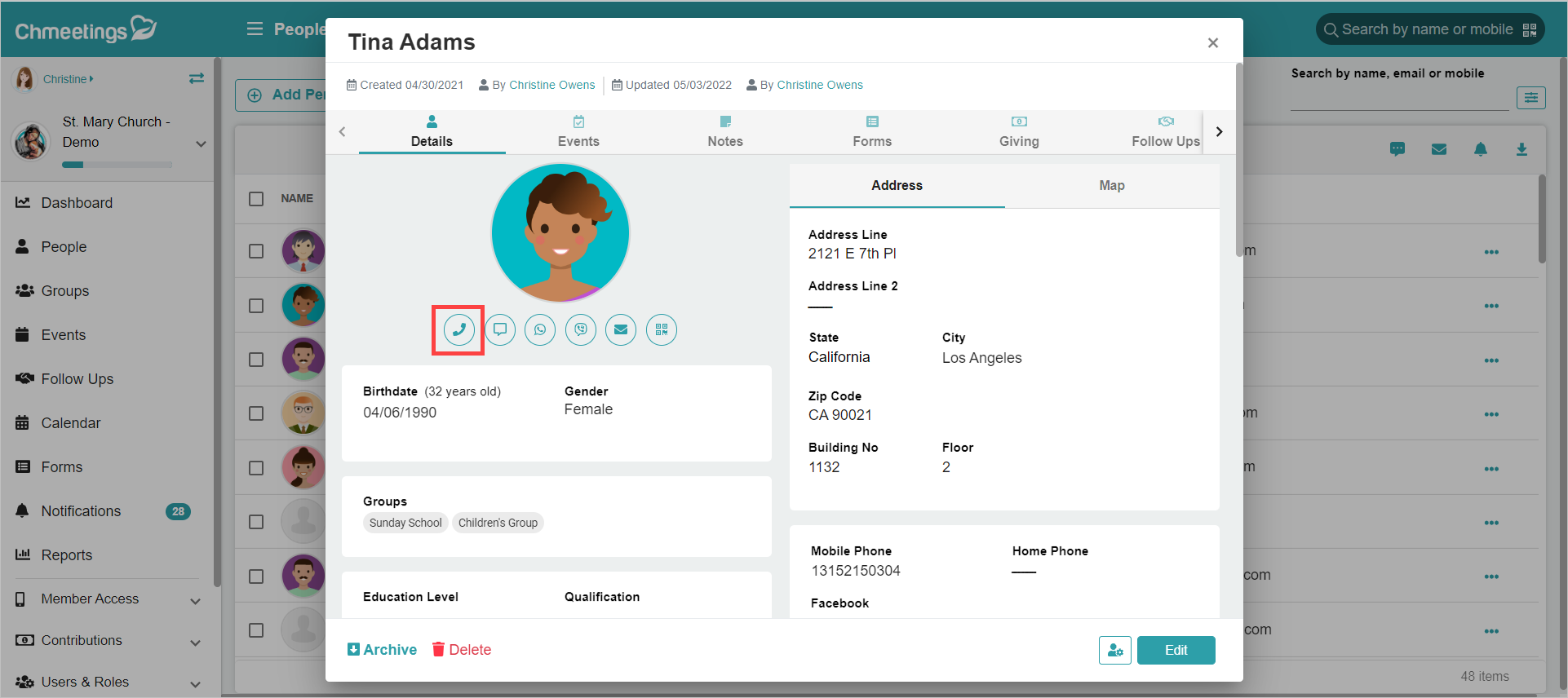 Text and voice messages
There are three ways to send text and voice messages:
Directly from your mobile phone

: You can use our mobile app to get someone's phone number and text them using your own phone number and SMS plan. You can use this option to text approximately 20-30 people, depending on carrier restrictions.

From within the ChMeeting app

: You can text people from within their profile, individually or from your main People list in bulk.

Using our integrations to send bulk messages. This is a free service, though you will be billed by the third-party service you integrate. You can integrate these services via Settings > Integrations > Bulk text/voice service.
If you send many text messages, then sending from within ChMeetings is most beneficial, because of the affordable pricing and additional options, such as:
Schedule messages.
Dynamic merge fields that allow you to address people by name.
The option to receive a dedicated number, as well as the possibility to receive text messages via our platform (These can be accessed via Reports > Text History Report > Replies). Please contact us if you would like to benefit from this feature.
Text and voice messages come at an extra cost and you can always find the available packages by going to Settings > Payments and Credit.
Please note that if you sent the same text message to e.g. 100 people, then this means you send 100 messages, which will consume 100 credits.
Please also note that text messages can be a maximum of 160 characters in length if they are in English, and 70 characters if they are in Unicode (Languages such as Arabic). You can shorten links using dedicated services, such as Bitly.
You can send text and voice messages right from within people profiles, where you have the possibility to record and send them your message. To listen to it, recipients will simply need to answer a phone call during which the recording will play.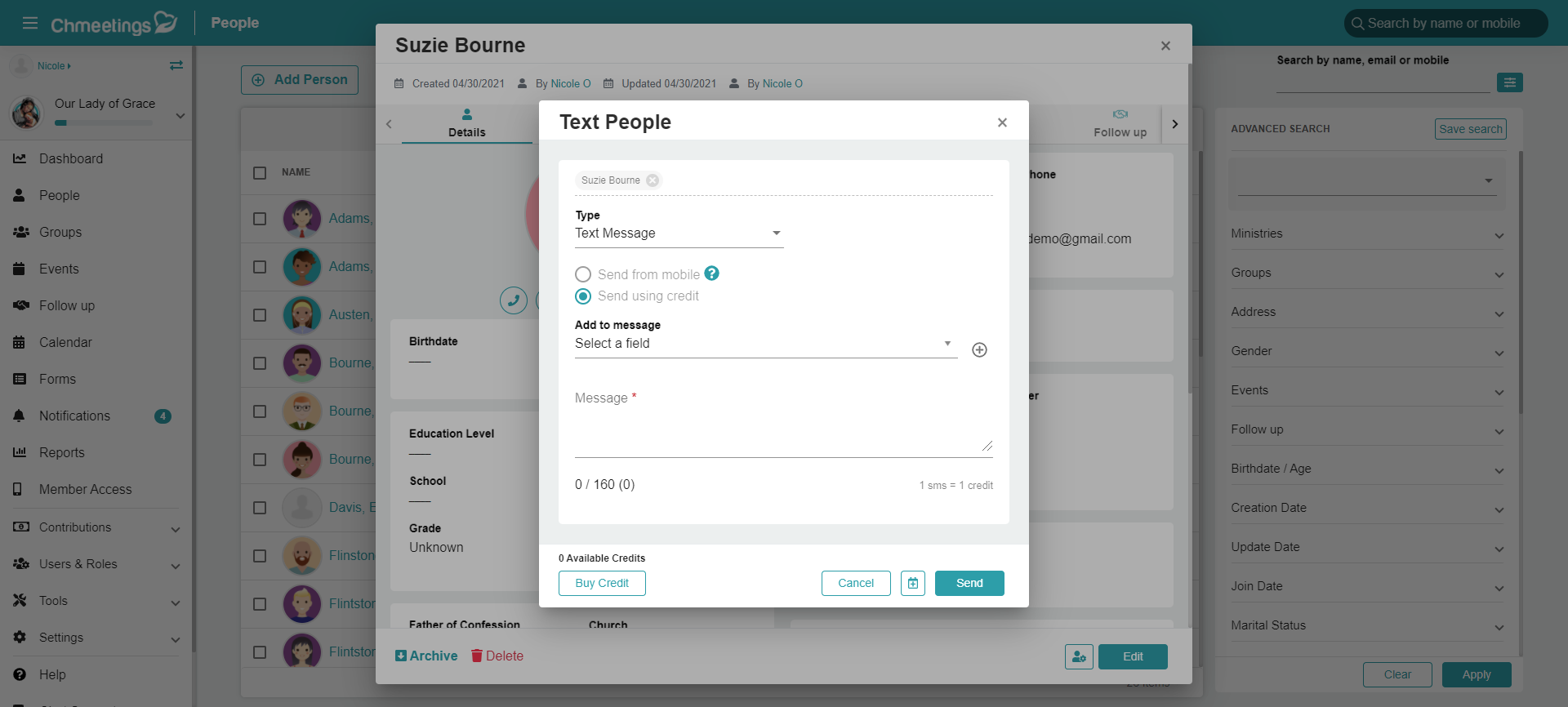 WhatsApp
You can go to someone's profile and connect directly to WhatsApp to chat with them. This feature has no extra cost. If you have WhatsApp standard and business, both installed on the same device, you can choose which instance to communicate through, once you select WhatsApp within the ChMeetings mobile app.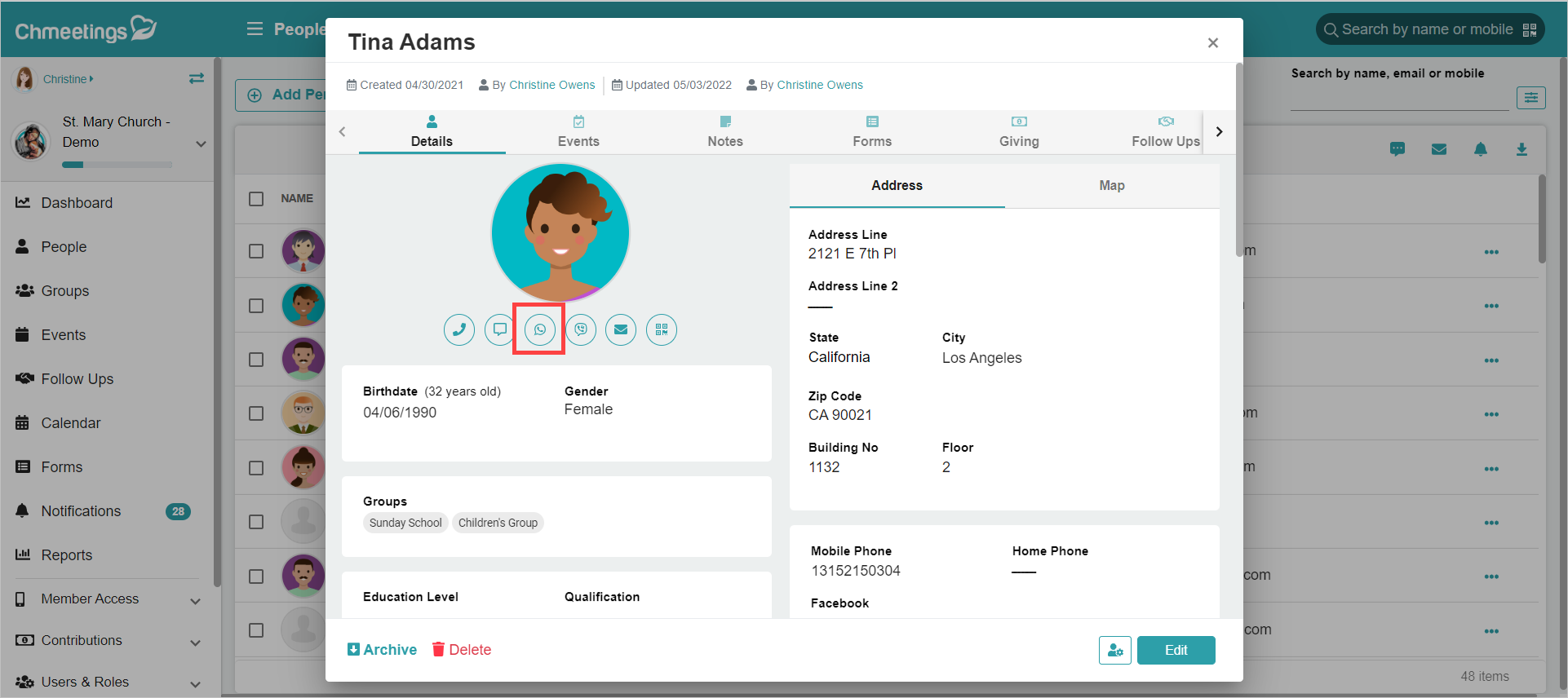 Viber
From your interlocutor's profile, you can also communicate using Viber, by clicking on the icon highlighted below. You will then be directed to your Viber app.
Telegram
If a member has added their mobile phone number to their ChMeetings profile, you can chat with them using Telegram. You can find the Telegram icon on their profile under the photo. Click this icon to connect with the member.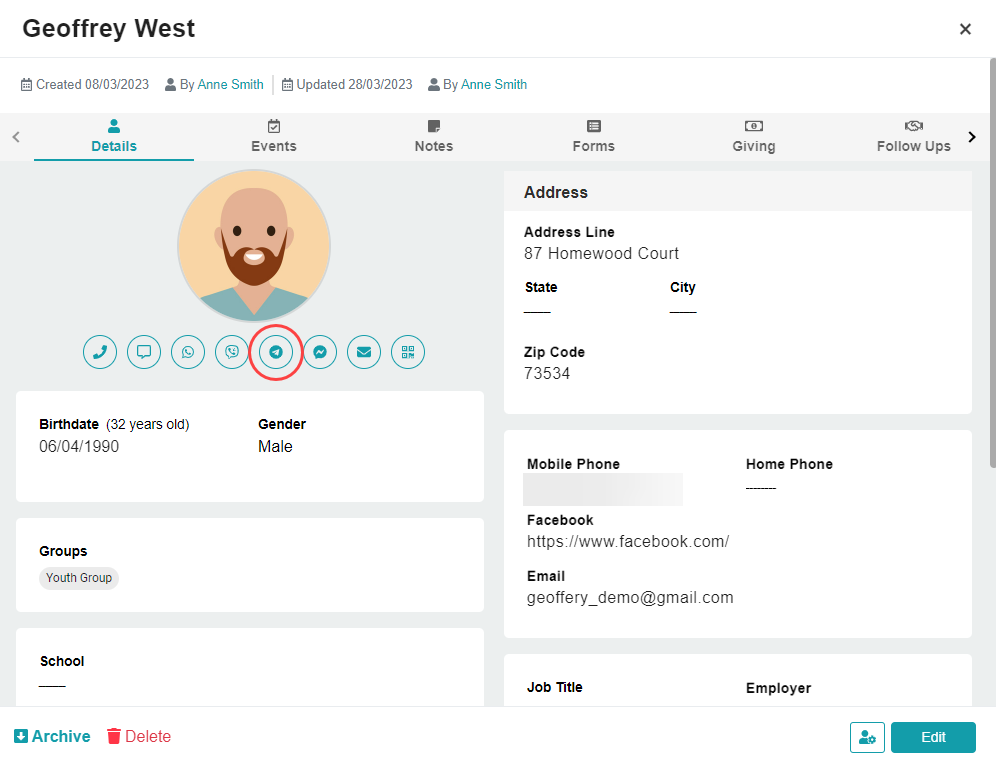 Facebook Messenger
If a member has added their Facebook profile link to their ChMeetings profile, you will see a Facebook Messenger icon underneath their profile picture. You can click this icon to chat with the member using Facebook Messenger.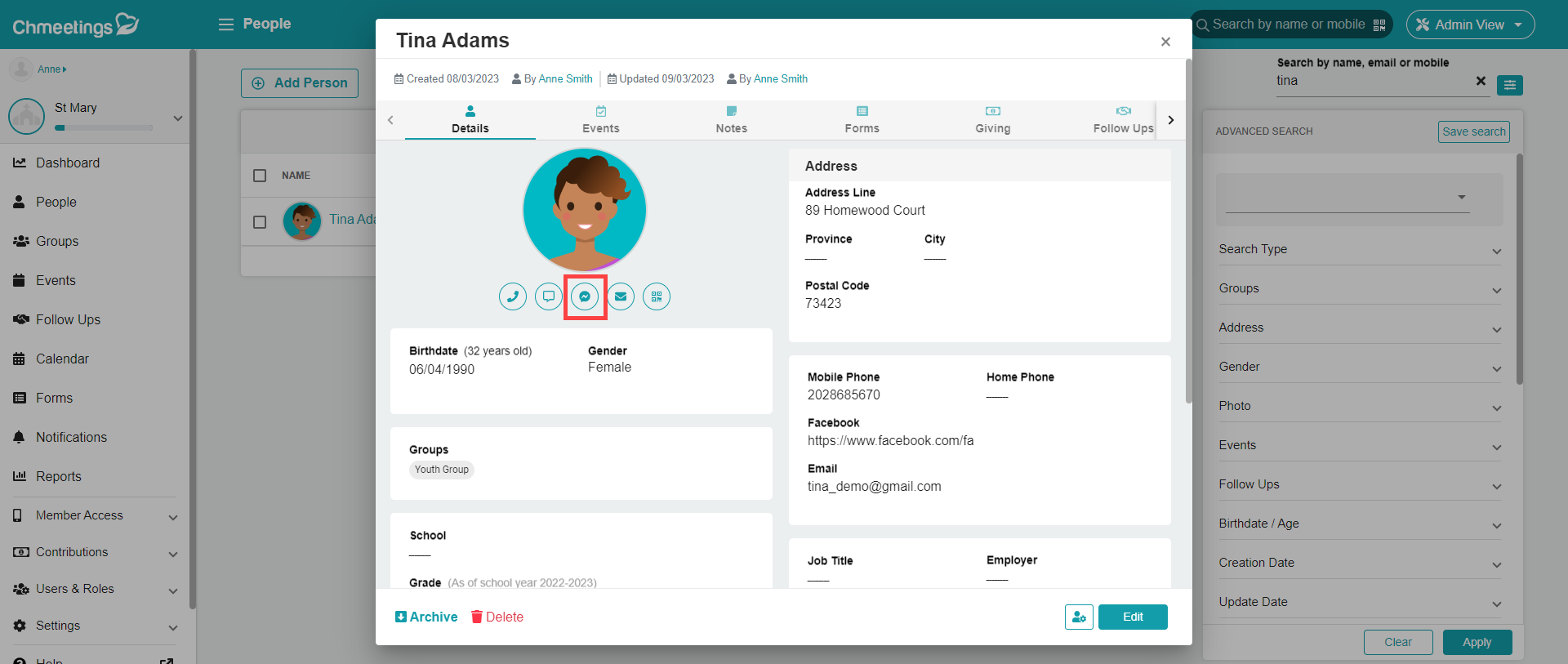 Email
You can email people individually, from their profile; or in bulk, from the main People list. Email is free of charge.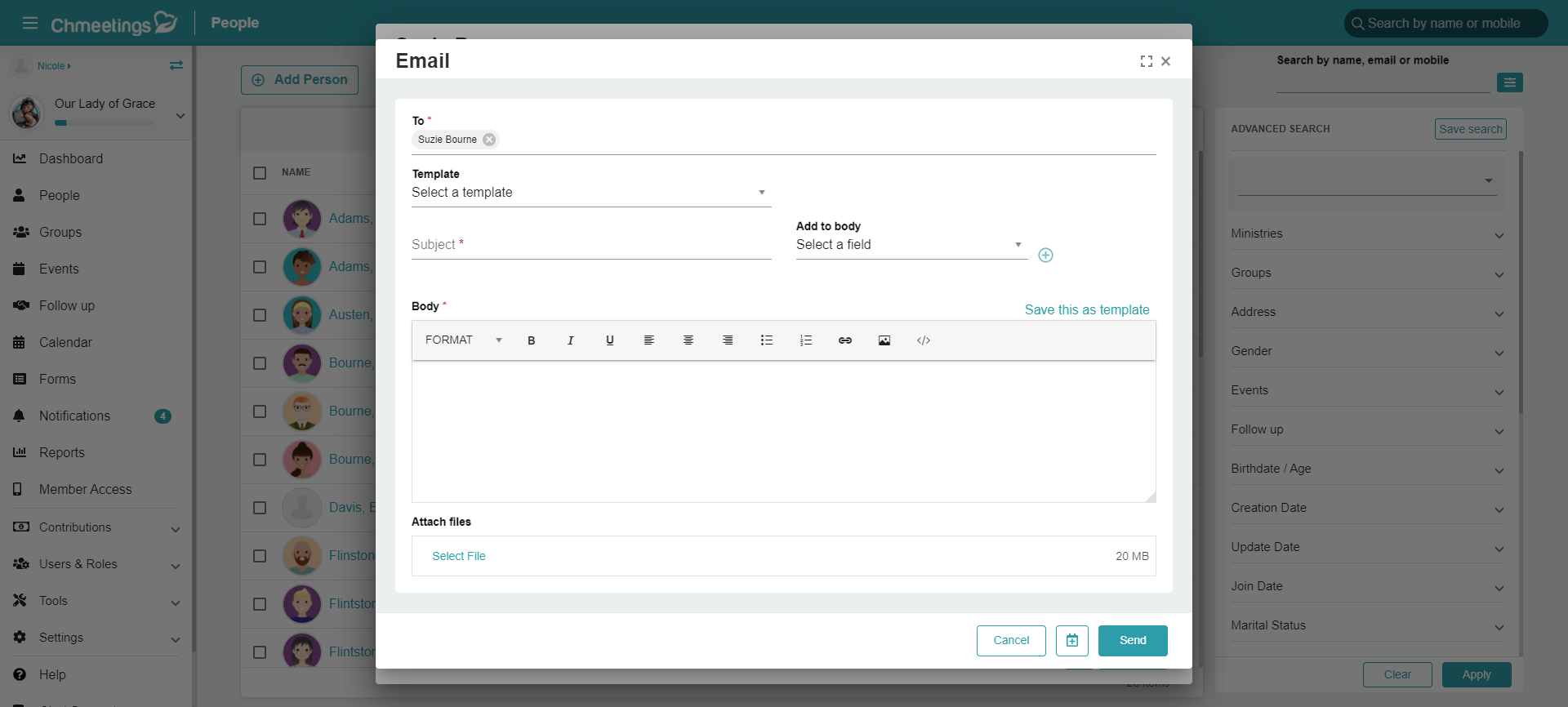 Notifications
You can easily send mobile or desktop notifications to one or more people. They are a quick and easy way for you to notify them about important events, remind them of something or simply stay in touch. Notifications will display either on their mobile devices (as push notifications) or on their desktop computers. Your members need to be logged into the ChMeetings app, either on mobile or desktop; and allow their devices to receive notifications. Sending notifications is also free.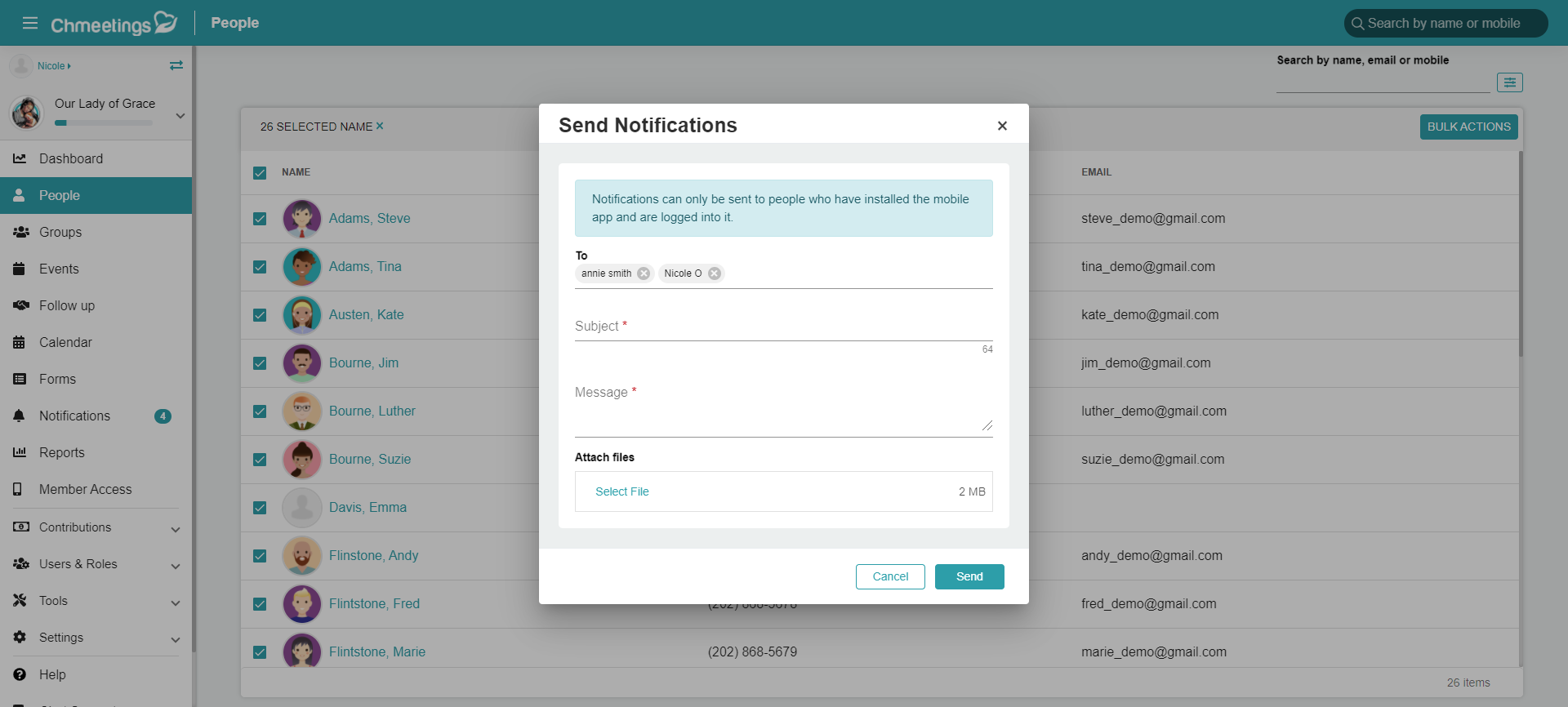 You can also schedule your notifications. This option is available everywhere notifications can be sent. Simply click the Calendar button to enable the date and time selection fields.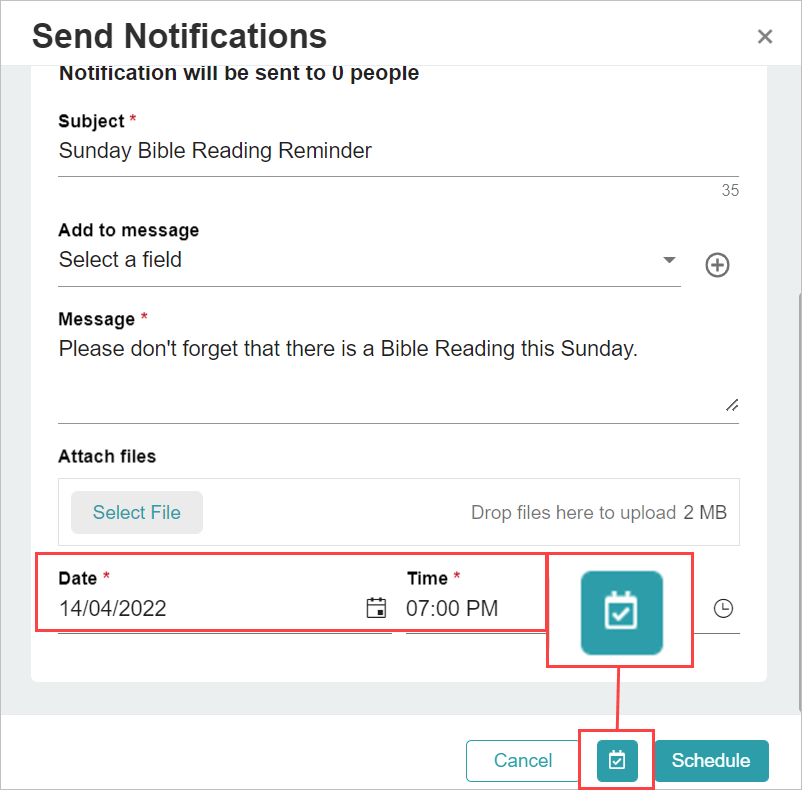 Forms
Forms are useful when you want to gather information from your congregation, or to engage with them via the app rather than in person.
You can build custom forms by going to the Forms section of your ChMeetings account. Each person who fills out a form will have it attached to their profile. In addition, you can manage submissions per individual form. This feature comes at no extra cost.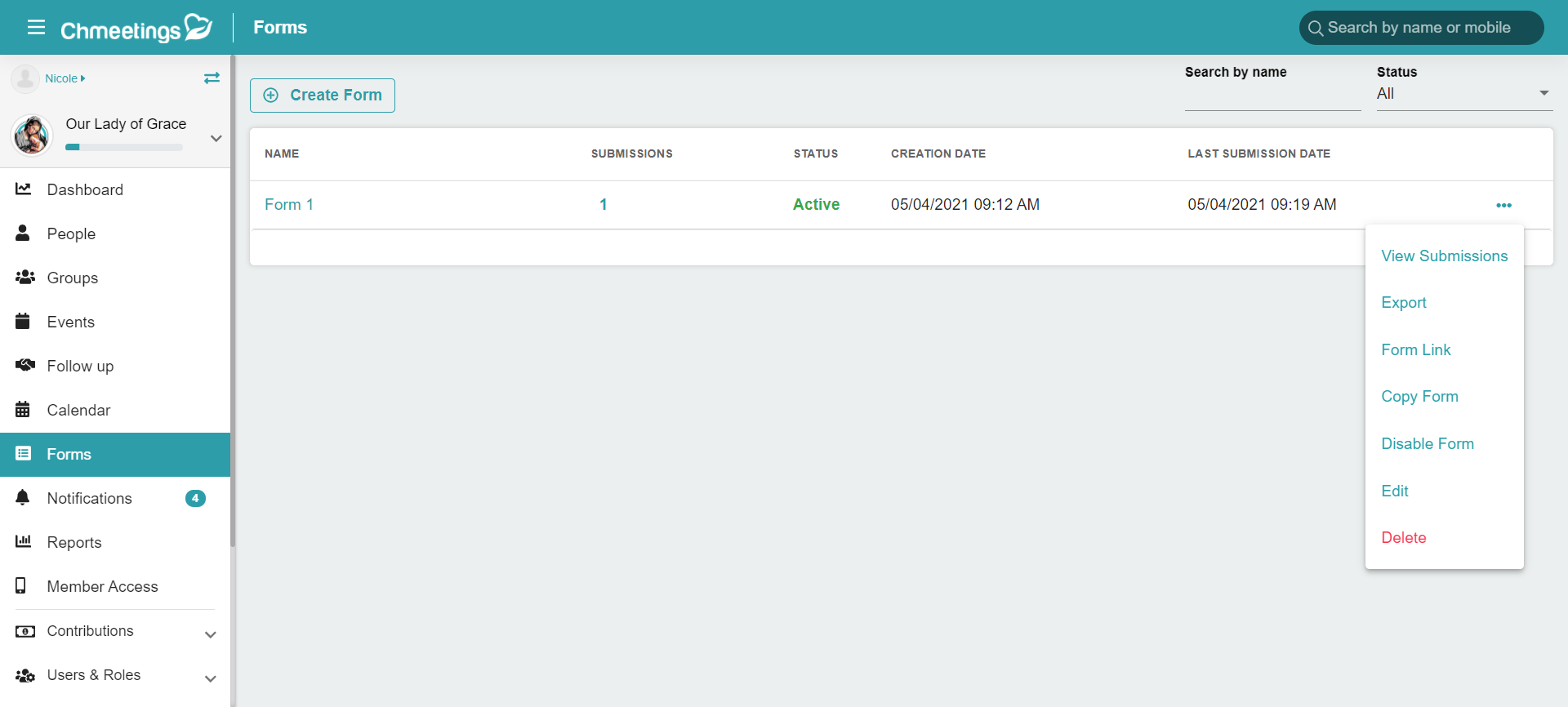 Share your calendar
Whether you organize on-site or online events, you can keep your congregation informed about your activities by sharing your calendar. This can be achieved from under your Calendar section > Calendar Options > Share. Only public events will display in the shared calendar. You can update the event privacy settings from the event editing page.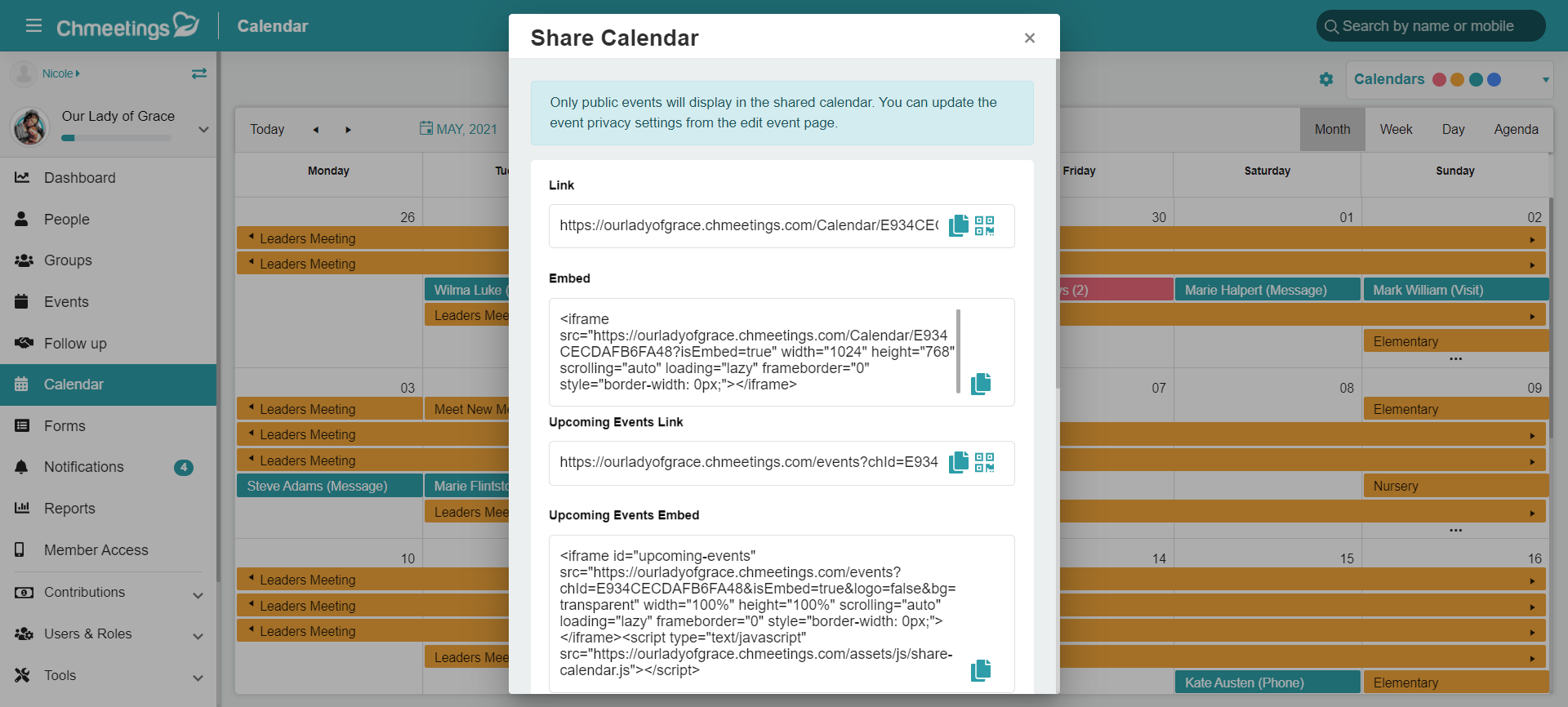 Opting people out of email or text messages
How to opt people out as an Owner, Admin or Group Leader?
If someone does not want to be emailed or texted, you can opt them out by editing their profile, under the People section.
Check the

Do not text

option next to the

Mobile Phone

field.

Check the

Do not email

option, next to the

Email

field.
How can people opt out by themselves?
People can choose to opt out of email and text messages sent by your church, using one of the following options:
When receiving an email

, people can unsubscribe

by clicking on the

Unsubscribe link

that can be found in the footer of each email This will automatically flag their member profile with "Do Not Email."

On Mobile

, members can reply with any of the following messages to any of the texts you send: STOP, STOPALL, UNSUBSCRIBE, CANCEL, END, or QUIT. This will flag them as "Do not text".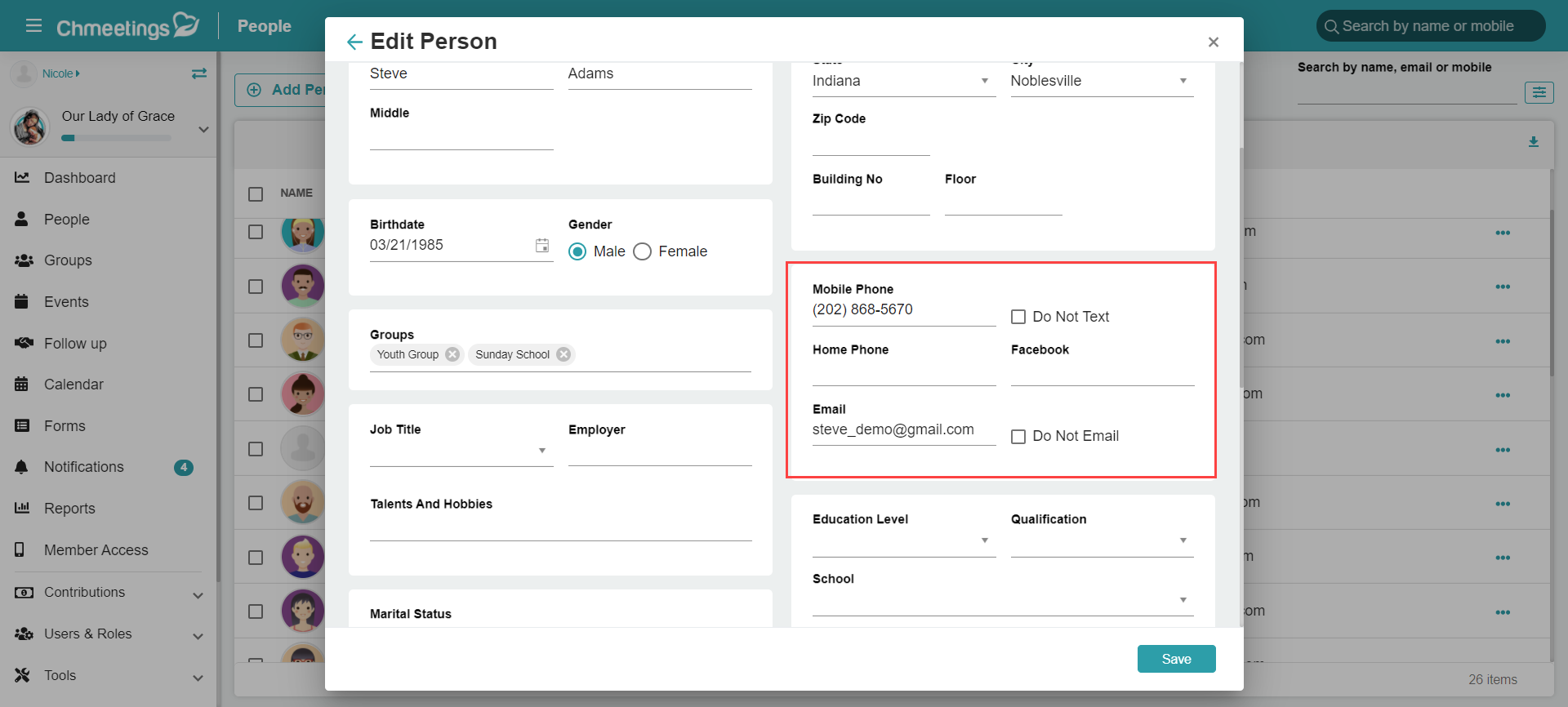 Interrupting communication with people
When you no longer need to communicate with someone, you can:
Archive their profile

They do not count towards your plan and you can restore them anytime afterwards as long as you haven't reached your plan limit.

Delete their profile

: You cannot restore them if you are on the free plan. You can restore deleted people 30 days after deletion, as long as you haven't reached your plan limit. These people records do not count towards your plan.