Do you have a quick question? It might be below:
How to log into my ChMeetings account?
Method 1:

Via your church URL or by going to

app.chmeetings.com

from a computer browser. You can also go to your church domain or subdomain.

Method 2:

Using the mobile app, which you can download from either

Google Play

for Android phones) or the

Apple App Store

(for iPhones).
What are the minimum system requirements for the mobile app?
The ChMeetings mobile app requires at minimum Android 5.1 (November 4, 2014) or iOS 13+ (September 19, 2019).
How can I have an overview of recent activity on my account?
You will see a dashboard of recent account activity as soon as you log into ChMeetings. This will include a quick stats section, as well as your pending follow ups and upcoming events for the month.

How to change the language I see ChMeetings in?
As an Owner or Admin, you can change the default languages for everyone using ChMeetings by going to Settings > Account Settings > General Settings > Default Language.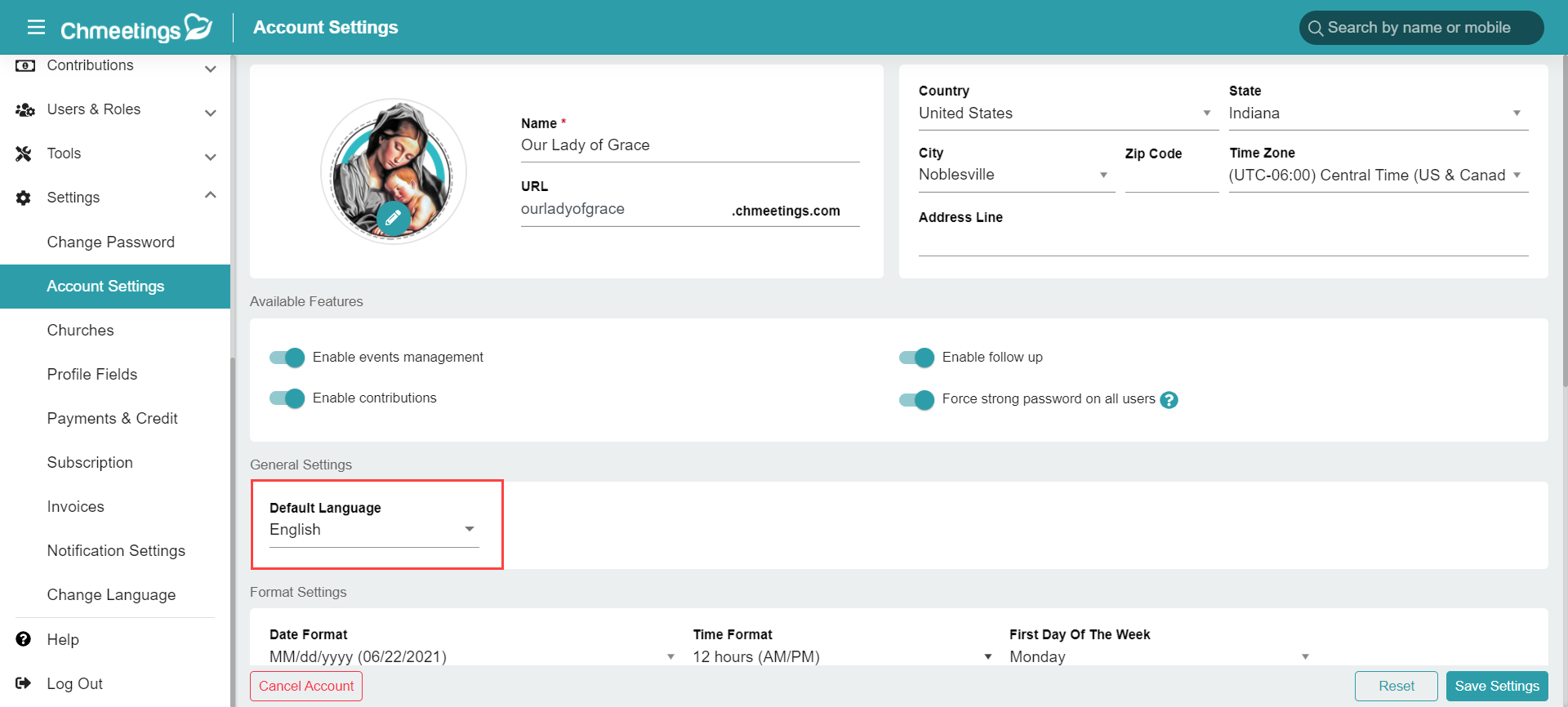 You can change the language you personally see ChMeetings in by going to Settings > Change Language.

How to view a list of people in my congregation?
You can view a list of people in your congregation who have a profile within ChMeetings by going to the People module. The list available here can be exported and/or printed as well. This is also where you can use advanced search filters to narrow down your list and add more people's profiles.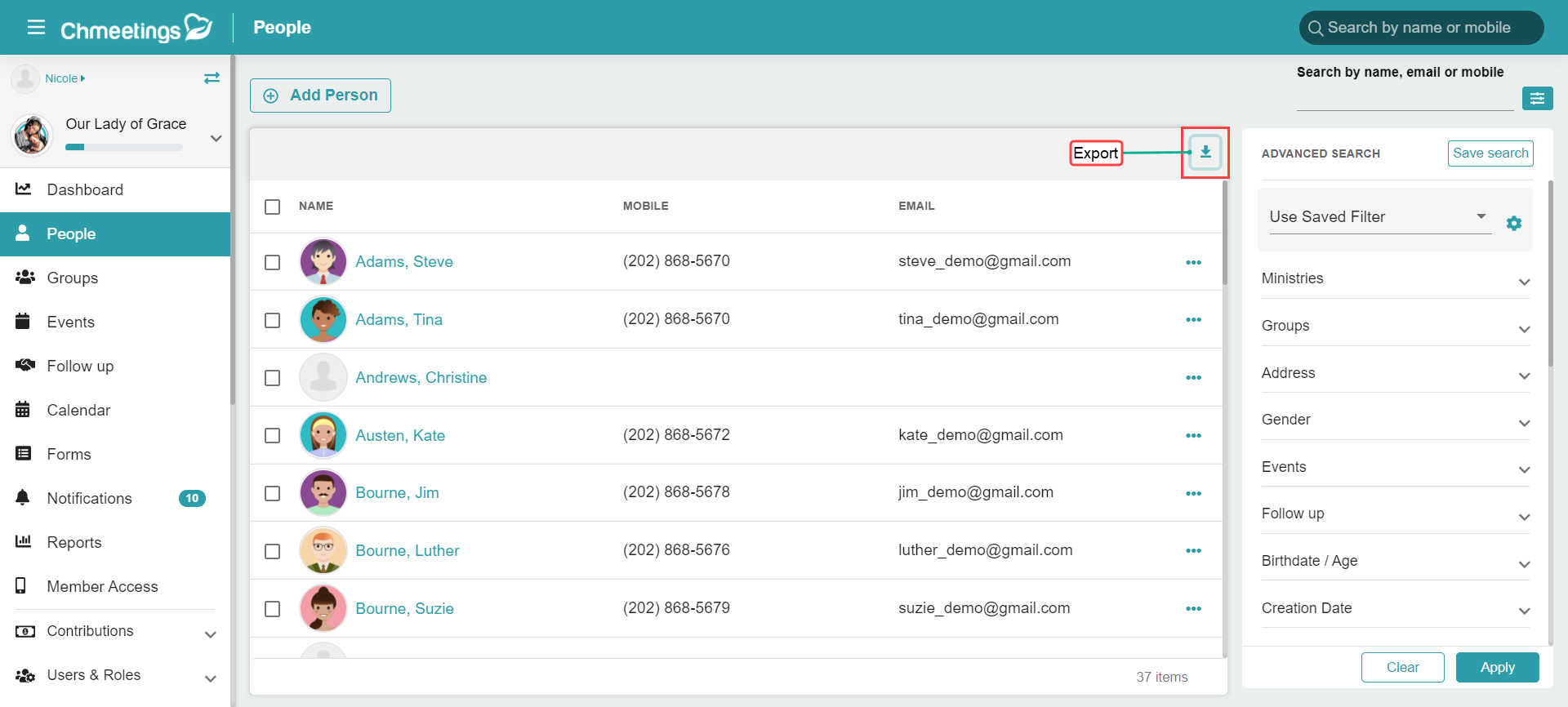 How do I quickly send texts, emails or notifications to everyone in my congregation?
You can do that using the quick-access icons at the top of your People module. Clicking any of these options will take you to the appropriate communication feature and will allow you to send to everyone in one go. Please note that for notifications, people need to have the ChMeetings Mobile App installed and to be logged into it.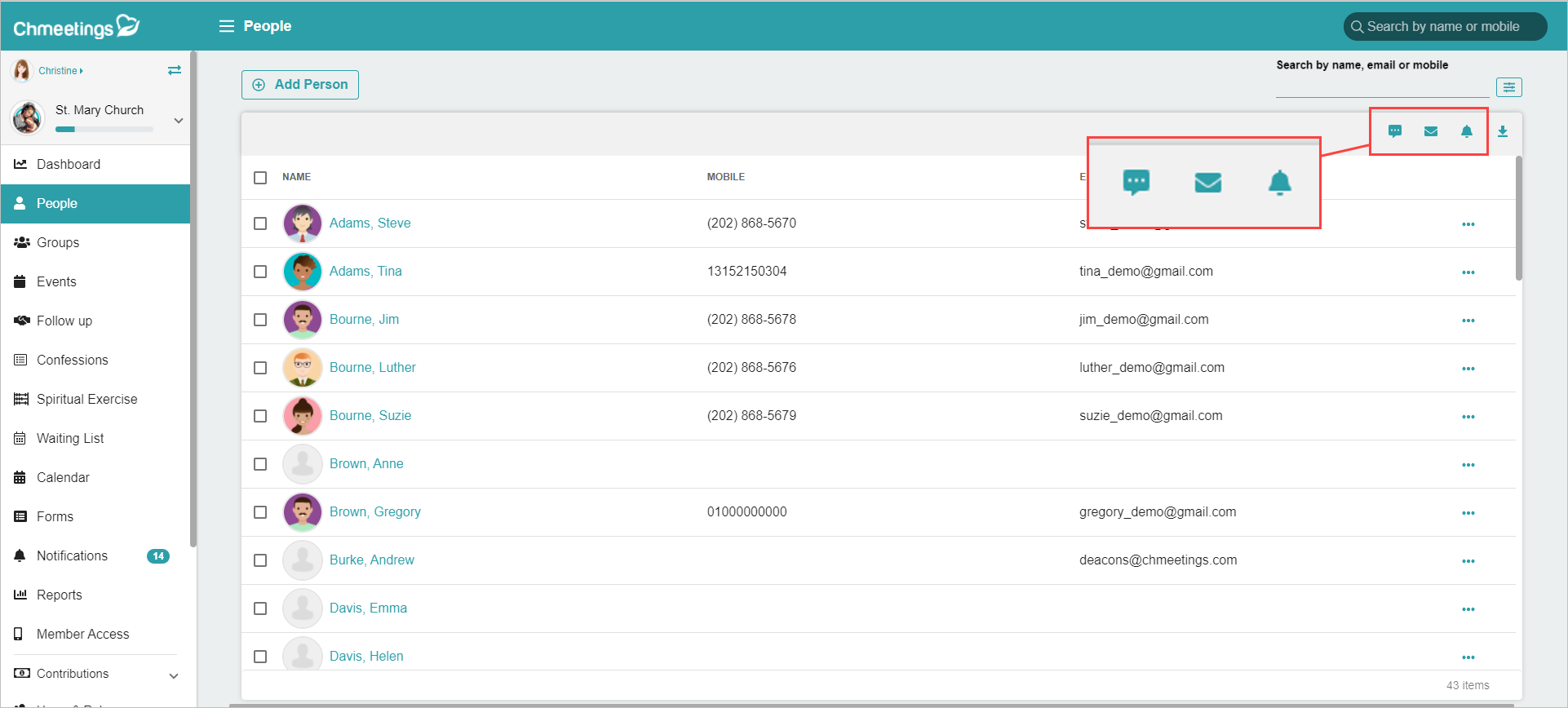 You can also schedule your notifications. This option is available everywhere notifications can be sent. Simply click the Calendar button to enable the date and time selection fields.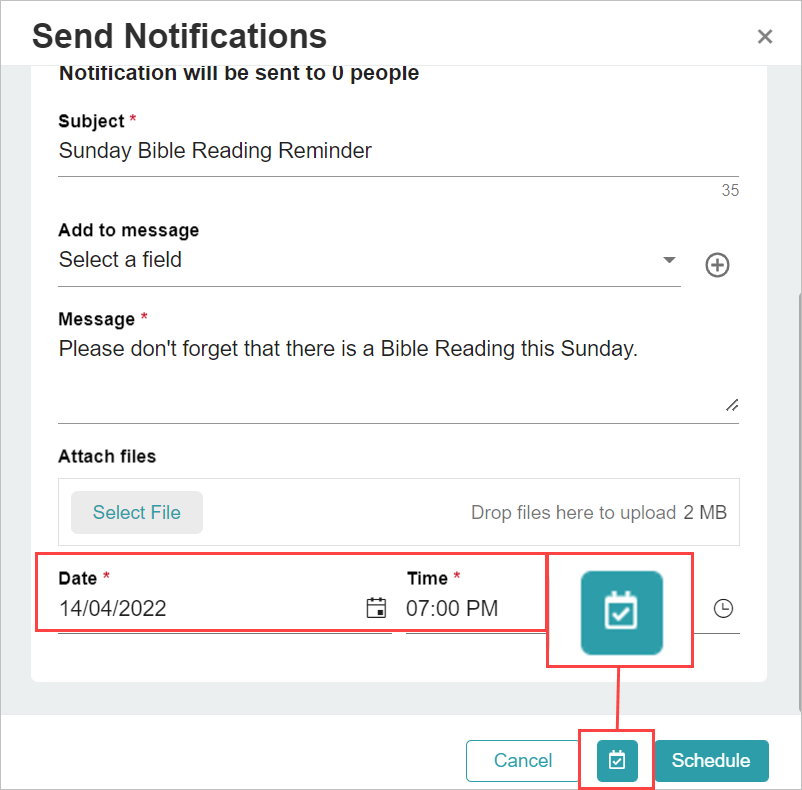 What is the maximum file attachment size limit?
The maximum file size limit is 5MB for all file attachments, except those added to emails, where the limit is 20MB.
Are there any extra costs besides the plan price?
Yes. Here is a list:
For SMS, calls and voice messages, you can purchase credit packages by going to

Settings > Payments and Credit

from within your account. You can also integrate with a third party (E.g.: Twilio, in which case billing for SMS will be handled by the third party.

If you want to have your own, branded church app, it comes at an additional cost. Please check our

website

for further information.

If you want to manage a diocese, there is a separate version of our app, available. Please also check the

website

for details about this as well.
How can I shorten links sent via text message?
You can use any link shortening service such as Bitly or TinyURL.