Contents
This guide explains how to allow members to access ChMeetings to manage their profiles and interact with your church. See Help Your Members for details on member-accessible features.
Members can be registered by a church Admin or sign up autonomously via various channels.
Admin designates any church servant with administrator or owner access to ChMeetings.
Configure the Member Portal
Member accounts work based on your Member Portal configuration. Please see Configuring Member Access for details on the process. Please also make the necessary settings within the Member Access section of your ChMeetings account to prepare for live member account registration.
Manage Permissions
Before allowing people to access ChMeetings, please ensure they have appropriate permissions. You can do so by going to Users & Roles - Roles & Permissions, where you can edit the permissions corresponding to every role. Please read Managing Users, Roles, and Permissions and Edit Member Permissions for detailed information on this process.
Create People Profiles and User Accounts as an Admin
Create Profiles
To access ChMeetings, members must first have a profile. Admins can create member profiles anytime. Granting members access to the app is not mandatory; thus, some may have a profile without a user account. This means that the person's information is stored within ChMeetings, and only Admins can access and manage it.
Admins can create profiles using the Add Person option from the following ChMeetings areas:
Create User Accounts
Once a member has a profile, Admins may register them as a ChMeetings user, as follows:
From the person's Profile, by using the

Create Account

option.



From under Users & Roles > Users, via the

Invite User

option.


Configure Autonomous Member Registration
Autonomous member registration refers to members' ability to create a ChMeetings user account by themselves without the intervention of an Admin (except to approve their registration if desired).
This section discusses the steps toward enabling autonomous registration, the channels through which members can register, the management of registration forms, and the approval process for new member requests.
Enable Autonomous Member Registration
You can enable autonomous member registration under Member Portal > Settings.
You can allow registration for members with existing profiles, new members, or both. You can also use a standard registration form requiring members to provide basic profile information; or create a custom form that gathers more complex data.
These options are available under Member Portal > Access Settings.

Members with Existing Profiles
Allowing people with existing profiles to access the Member Portal lets members enter their email addresses and create an account based on an existing profile. Upon successful registration, members receive your Invitation Email and can log in and configure their password immediately. If you do not allow new members to register, then registration is only allowed for people with existing profiles.
New Members
If you Allow new members to register, members can enter their email addresses and create an account even if they do not have a profile. They must provide the information you require to create their profile upon signup. See the Member Registration Form Management section below for details.
New and Existing Members
If you allow both new and existing members to register, then the following occurs:
If the person who registers already has a profile and they use the matching email address, then they will follow the steps for people with existing profiles.

If the person who registers uses an email that does not exist in your database, then they will create a new profile. In this case, it is important to note that there is a chance for people to create a second profile using a different email address. If this happens, you can use the

Merge People

feature to combine the profiles into one.
Registration Channels
You are ready to announce autonomous member registration once you enable registration and configure all your invites and messages.
You can do so using the Invitation Link from within Member Portal.
You can copy the link by clicking the Copy button. Paste the link wherever you need it: Emails, text messages, in-app notifications or anywhere online.

You can also generate a QR code to take people to the invitation link when scanned.

You can print the QR code or use the digital image wherever necessary.
Please note that, regardless of the form in which you decide to use the code, people will need a QR Scanning app on their smartphones to scan your code. Some devices include this feature within their built-in camera app.
In addition to the invitation link, there are other channels through which members can sign up for an account with your church:
The Church URL: Members can register by going to your church URL and using the Create Account option. You can find your church URL by going to Settings > Account Settings.
The default ChMeetings app link: Users who do not know the church URL can also go to:

https://app.chmeetings.com

and use the Find My Church option.
The ChMeetings mobile app, which you can download from either

Google Play

(for Android phones) or the

Apple App Store

(for iPhones).
Manage the Member Registration Form
You can choose any of the following two registration form options:
Use the Default Form
The Default registration form requires members to fill out their email address, full name, phone number, and profile picture. This form is enabled by default and cannot be configured.
Create a Custom Form

(Paid Feature)
You can customize the registration form by adding profile fields to the registration form.


To create your own form, follow these steps:
Create custom profile fields, as explained in

Add and Manage Custom Profile Fields

.

Edit Member Permissions

and choose which profile fields should display in the member registration form. To do so, check the Registration checkbox against each field you want to add to the registration form. Inactive fields are not available to add to the registration process.

You can add newly registered members directly to a group by adding a group selection field to the registration form.

Learn more

.
Here is a simple example of a custom form. You can build yours as elaborate as you like.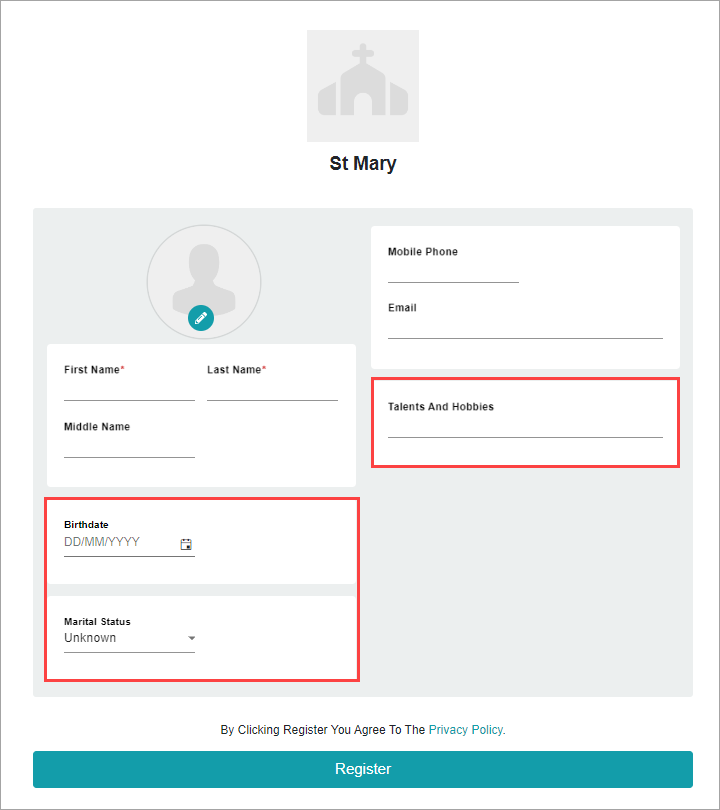 Approve Memberships
In Member Access > Access Settings; you can enable Automatic Member Registration Approval. Doing so means that new users are automatically created without requiring approval. You can keep track of your list of users by going to Users & Roles > Users.
Do not enable Automatic Member Registration Approval if you want to approve member requests manually,

With manual approvals, you will see New Member Requests within the dedicated Member Portal section.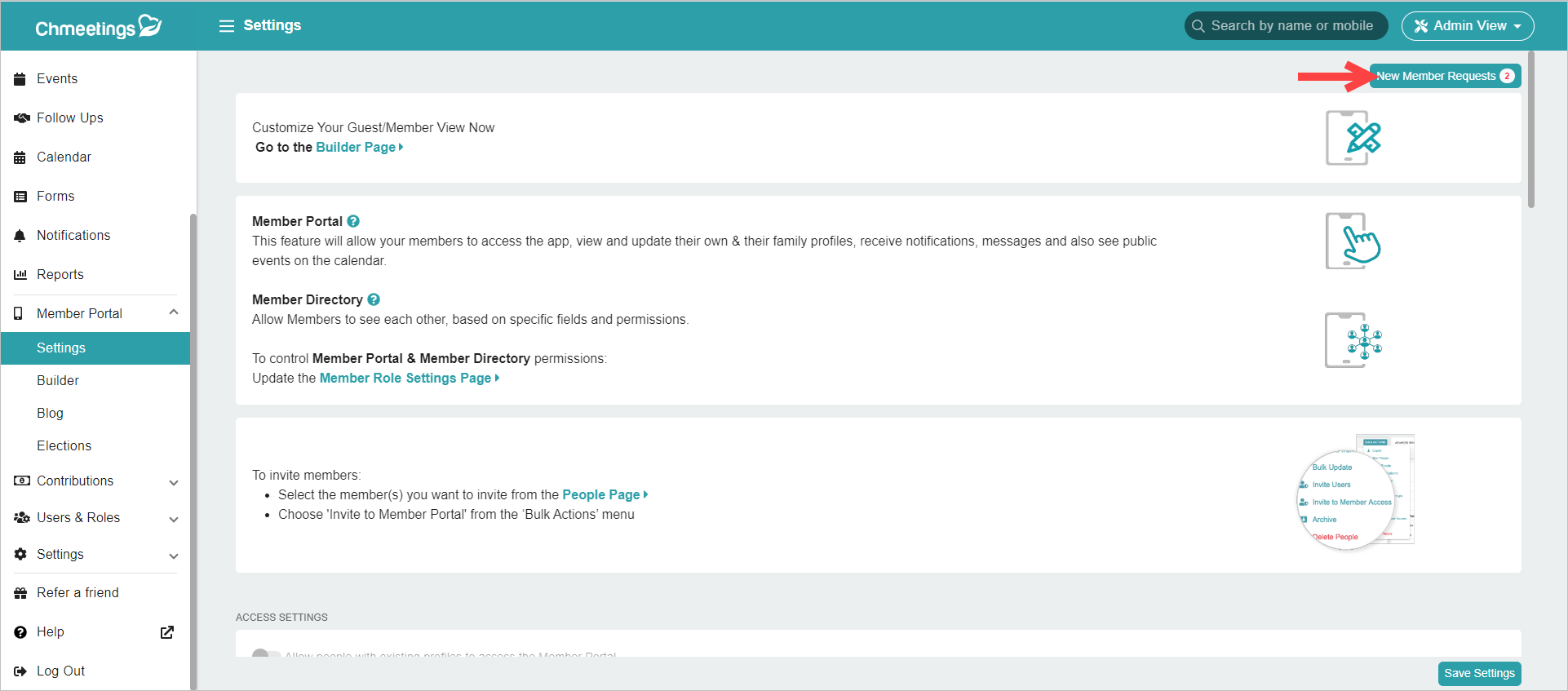 The New Member Requests section lets you Accept or Decline a member's registration. If you know of an existing profile for the same person, you can link it using Link Person. If there are registration requests from several members of the same family (marked as such), you can approve all family member requests in one go. You can also flag requests, filter by flagged or unflagged, search, and export requests to .csv.

Moreover, by selecting records and clicking Bulk Actions, you can communicate with pending members via email, text, or push notification.